Aeronautical charts are important for aircraft navigation because it helps pilots ascertain the best route to a destination, find an alternative safe landing zone or determine the position of an airplane. These charts serve as maps for aircrafts in the same way as nautical charts are used for watercraft. Aeronautical charts provide useful information including key visual details on airspace boundaries and radio frequencies. There are specific charts for long-distance trans-oceanic travels and other charts for other important uses. The importance of these charts cannot be ignored and hence pilots need good knowledge on how to read an aeronautical chart.
Aeronautical Charts for Visual Flight Rules (VFR) and Instrument Flight Rules (IFR)
VFR aeronautical charts are used under visual flight rules, where a pilot operates the aircraft on favorable weather conditions. The visual flight rules allow a pilot to refer the chart and navigate the aircraft by looking outside the cockpit. Using the VFR chart, the pilot can comprehend local topography and use the legend to understand towns, roads, restricted areas as well as other important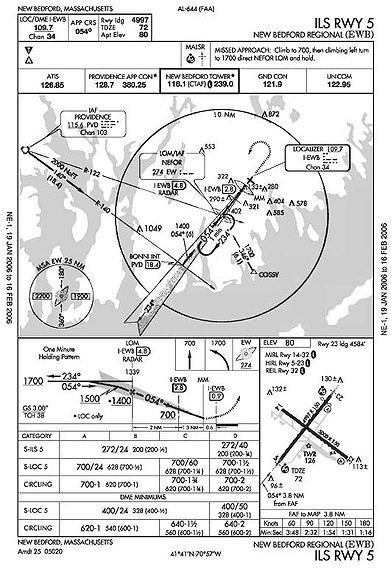 aeronautical details.
Based on the scale, VFR charts are divided into different categories. These important aeronautical charts serve as important maps for airplane pilots and include:
Sectional Charts: these charts have a scale of 1:500,000 or 1 inch equal to 7 nautical miles.
VFR Terminal Area Charts: designed with a scale of 1:250,000 or 1 inch equals 250,000 inches. The chart is designed for the area of a large airport and portrays flight routes within the vicinities of congested airspace.
World Aeronautical Charts: WACs are designed for large areas and have a scale of 1:1,000,000.
IFR aeronautical charts are used by pilots who cannot see outside the cockpit due to bad weather conditions. The pilots refer to artificial navigation aids to help navigate an aircraft safely. An IFR aeronautical chart boasts comprehensive details regarding waypoints (location fix), and the routes that connect these location fix. However, an IFR chart does not contain detailed information on the topography.
Reading an Aeronautical Chart
Pilots require much understanding about the different aspects of reading aeronautical charts. They also need to understand the difference in scale because all charts look the same, but the major distinction between each chart is the scale. To understand how to read an aeronautical chart, here are few key tips to note down. We have used the sectional chart example to explain how to read VFR charts:
In a sectional chart, the pilot needs to understand the correct sectionals to comprehend the departure and destination points as well as other points between them. The pilot has to select the right sectional to avoid any misunderstandings later.
Since a sectional chart is one of the important types of VFR aeronautical charts, it contains a legend and detailed topography information. Airplane pilots need to comprehend the legend to understand important symbols of airport data, mountains, restricted areas, flight obstructions and other key symbols.
Pilots also make use of the plotter to ascertain the right course. Plotters help pilots to ensure correct navigation.
Analyzing the topographical information is the prime responsibility of the pilot. The sectional VFR chart provides detailed information by presenting color scales that range from sea level to green and finally brown for altitudes above 12,000 ft. The sectional chart also marks maximum altitude in numerical format, so there's absolutely no problem in understanding the topographical information.
Pilots also look for restricted or warning areas in a sectional VFR chart to avoid flying over them. Different symbols mark such restricted areas, and usually show blue hashed lines. Hashed lines indicate military operations area. If a pilot accidentally crosses a restricted area, it will be wise if he reroutes or ensures he gains permissions before entering such areas.
The pilot also needs to understand the latitude and longitude as well as degrees and minutes marked on the chart. He also needs to note down all geographic features including major roads, towns etc. These are marked on the chart and serve as important landmarks.
Pilots need to ascertain the above tips to understand how to read an aeronautical chart. One can buy aeronautical charts from Internet sources of fixed based operators. Skyvector and the FAA also provide aeronautical charts to pilots for online viewing purpose only.
References:
https://www.pilotfriend.com/training/flight_training/nav/rd_charts.htm
https://en.wikipedia.org/wiki/Aeronautical_chart
Image Credits:
Example of an Aeronautical Chart: Wikimedia Commons