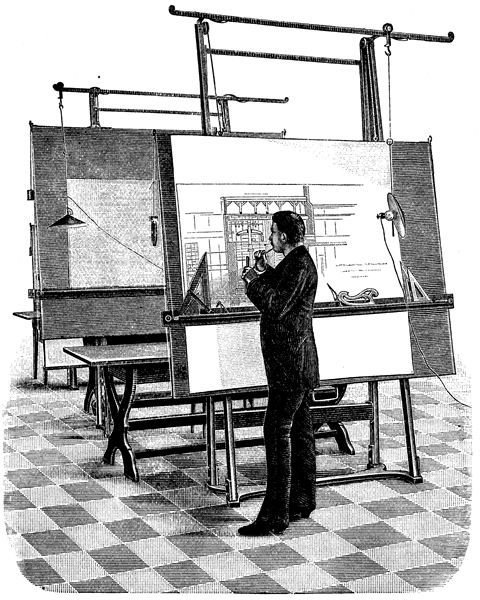 Architects plan and design houses, offices, apartments, malls, schools, hospitals, places of worship, transportation hubs, and all other buildings. They not only conceive the look of the building but also remain responsible for safety, ventilation, cooling systems, electric and plumbing layouts, lifts, building layout, and the overall functionality of the building.
Image Credit: Wikimedia Commons
Future Trends
Construction of new and bigger buildings has always symbolized the development of civilization, and as such, architects will remain in demand as long as people construct buildings and civilization flourishes. The trends in construction, however, change with time, and such emerging trends in architecture will have a major bearing on the future jobs for architects
A combination of ever-developing technology, an increasingly busy lifestyle that makes more and more individuals look to buy dwelling units instead of spendiing their time and energy constructing one, and concerns about security have made people prefer big complexes over independent small constructions. The future would see an increasing requirement for architects to construct big complexes rather than small houses or buildings. Baby boomers who reach their peak earning years would yearn for larger homes with more amenities, and as such even independent houses would increase in size. Familiarity with big and high-rise construction principles would become an indispensable requirement for the architect of the future.
Employment of architects strongly depends on the level of local nonresidential construction such as office buildings, shopping malls, educational institutions, and healthcare facilities. Technology developments such as telecommuting, teleconferencing, and electronic shopping may dampen the construction of new commercial office space, but the increasing population and the space crunch in urban areas would put pressure on public places and utilities such as hospitals, malls, schools, colleges, and other facilities. Architects would find jobs redesigning and renovating such facilities to make best use of available space.
Rising energy costs and an increasing concern about the environment has made green building technology or sustainable architecture a major requirement. Green architecture entails construction of environment-friendly buildings through efficient use of natural lighting, renewable energy sources, elimination of pollution and waste, eco-friendly construction materials, sustainable building design, and maximized use of other natural resources. Green architects would have to incorporate concepts such as LEED (Leadership in Energy and Environment Design) systems into the building design.
Another thrust area for the future is landscaping and interior designing. As existing buildings fade with the weathering caused by time, architects will find jobs to renovate such buildings. Interior designing and landscaping will feature prominently in such renovations.
Statistics
In May 2008, architects held about 141,200 jobs and earned median wages of $76,750 annually. Architectural jobs will grow at 16 percent through 2018, faster than the average for all jobs.
The increasing number of fresh architectural graduates will put pressure on those graduates and increase competition for entry-level jobs. The trend of outsourced drafting of construction documents and basic design to architecture firms overseas for cost advantages also has a negative impact on employment growth for lower-level architects and interns.
Architecture career prospects depend not just on sound conceptual knowledge and experience, but also on competency in relevant technologies such as CADD, awareness of updated standards and new fads, and competency in emerging areas such as sustainable architecture.
References
Bureau of Labor Standards. "Occupational Outlook Handbook 2010-11". Retrieved from www.bls.gov on 09 December 2010.
JobBankUSA. "Job Outlook: Architects, EXcept Landscape and Naval." https://www.jobbankusa.com/career_employment/architects_except_landscape_naval/jobs_outlook.html. Retrieved 09 December 2010.