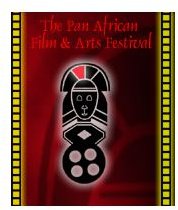 The Pan-African Film Festival is a festival that previews films created by people of African origin. The film does not have to be made by African people. The film must simply demonstrate the life of African people. It is one of the largest and best film festivals of Africa and therefore many celebrities and top film directors turn up. It has been running since 1969 and had continued to grow throughout time, becoming more famous and established. It provides a great opportunity for aspiring filmmakers to get their films recognized and produced. The winners of the film festival vary in country by year which demonstrates the cultural diversity of the Pan-African Film Festival. The festival also organizes a range of events throughout the year to promote films, such as film premieres and offers. The festival was created not only to raise cultural awareness but to provide Africans the opportunity to fulfill their dreams as a filmmaker.
Image Credit: https://www.studentgroups.ucla.edu/aep/PanAfFilmFest.jpg
Where Does the Festival Take Place?
The Pan-African Film Festival takes place in Los Angeles, California, USA. The festival usually takes place in February. It is best to check their official website for exact dates as the dates vary year to year.
Africa: Good or Bad
The Pan-African Film Festival shows a range of films from documentaries, short films and reproductions of already released films. This gives the filmmaker free reign over their creation. But, they only accept films which conveys the positive images of African heritage. The films applied for the festival should also portray images of real life Africans and their lives. They do not accept films which show the declining aspect of Africa and its image.
Submission Fees
The entry fee for the Pan-African Film Festival is between $20-50 for each short film. The costs vary depending on when the film is submitted. You can send your film in early to get the cheapest entry rate of $20. This price will go up as the deadline approaches. The cost of a feature film is more and may go up to $75 if the film is submitted close to the deadline. To help them run the festival successfully, participants and others can also donate money. This can be done through their official website.
How to Apply
An entry form is available for download online from their website. You simply complete the details of your film on the form and send it to the head office for viewing. You will also need to send a DVD of your film along with the form. Generally, the deadline for submission is at the end of October, although you should check the website for any updates. If your film clears the initial screening, they will then ask you to complete the rest of the process for applying to the Pan-African Film Festival.
Rewards
The Pan-African Film Festival receives application from more than 35 counties and showcases more than 120 films. They present the following awards to the winners:
Étalon de Yennenga
Oumarou Ganda Prize
Best Feature Narrative
Paul Robeson Prize
Best Feature Documentary
Audience Favorite Documentary Feature Award
Best First Time Narrative Feature Award For Directing
Best Narrative Feature Award
Best Narrative Short
Best Documentary Short
Best Narrative Feature
Best Documentary Feature
PAFF Programmer Award – Documentary
PAFF Board OF Directors Award- Narrative
PAFF Board OF Directors Award – Documentary