Two Great and Free Font Generators
Today, there are virtually thousands of free font collections online. Some fonts can become favorites to use in many projects, while others can seem worn out and just not right for a current project. Instead of rehashing the same fonts over again or pulling out the credit card to purchase more fonts, you can start making your own. In order to create new fonts, you could purchase typography software or you could use one of the many online font generators for free. In this article we are going to take a look at two of the most reliable and most used font creation websites available.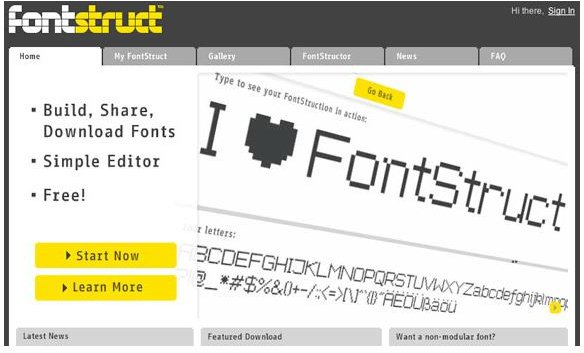 One of the best free font generators on the web is FontStruct. The online application was created by FontShop, which is a paid font site, in an effort to spur creativity in individual font making. Fonts that are user-created through the application are called FontStructions and are made through the use of the FontStructor editor tool.
All end use fonts that are created via FontStruct yield TrueType fonts that are ready to use on various PC applications including Windows and Mac. FontStruct does allow users to retain the rights to their fonts but also offers the option for users to share their creations through the gallery at the website. For more information on FontStruct and how to get started creating fonts through them, visit their main web site at: www.fontstruct.com

Another excellent site for creating your own fonts is called YourFonts. The YourFonts application was created by High-Logic B.V to allow people a fast and easy way to create free fonts online. The application contains a raster-to-vector conversion and the ability to upload templates as large as a 4,000 by 5,000 pixels in size.
Through YourFonts , you can create a digital font based on your own handwriting, which is one of the most popular features for the font application. For more information on using YourFonts and how to get started using this free online generator visit the website at: www.yourfonts.com