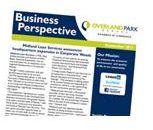 Whether you've been put in charge of your company's newsletter, or you've been designing newsletters for years and are running out of inspiration, there are loads of options out there that are easy to implement.
We start off our guide with some terrific templates that you can alter to your needs, followed by lots of lovely tips on making your newsletter more readable and even those specific to your newsletter type.
Don't leave out the small stuff either. Fonts, color and typography are often given little to no consideration, but can make all the difference to the overall look and visual appeal of your newsletter. So, let's get started.
Take Advantage of Some Great Templates
The best place to start designing your newsletter is to make use of free templates. This doesn't mean that your newsletter will become boring and generic though, many of them offer the opportunity to add your own flavor too. If you use simple Word templates for example there is plenty of scope for adding your logo, clipart and graphics to brighten the appearance and make it more readable — more about that later. We've covered all your options here, no matter what software you are using and have even thrown in some great reusable templates and those that you can use when creating an eye-popping e-newsletter.
Freshen Up the Design & Get More People to Read It!
No matter how interesting the text in your newsletter, people aren't going to read it if it's not presented in a fresh and appealing way. Overcome these hurdles with some fresh ideas and tricks to get people reading. If you do it right, your company newsletter can even be transformed into a useful marketing tool.
Tip-Top Tips Depending on Newsletter Type
There are so many newsletter types around, and you really need to make sure you pick a style that suits the theme — no use choosing the same layout and graphics for a church newsletter as for a business one. We've gathered together some top tips here depending on the type of newsletter you are producing.
Color Me Happy – Schemes and Top Choices for Newsletters
Do not underestimate the power of color when creating your newsletter; it's hugely important in not just the overall look of, but in creating an appealing newsletter that people want to pick up and read. Certain colors don't work well together, and depending on the message you want to get across you might want to indulge in some color symbolism too. Our first article here is really useful at taking your main image and creating a color palette around that, which is an interesting angle to take. Or why not learn how to use a standard monochromatic scheme to great effect?
Choose the Best Fonts and Learn Typography Tricks
Your font is usually given no consideration at all and you are stuck with the usual Times New Roman, or else newsletter design goes

overboard with a whole mismatch of weird and wonderful fonts. Learn how to pick the best font for you, and avoid the usual typography mistakes that are often overlooked.
Make It Your Own – Add Your Own Design Touches
So now you have a great newsletter, good color combos and great fonts and typography tricks have been used. But it still doesn't stand out from the crowd. There are loads of ways to make your newsletter more individual and the use of images is one of them. Even adding a border or using a dingbat font can be enough, and it's easy to do too.
Hopefully now you have a newsletter you can be proud of! Let us know what color combinations and font choices you like the best for producing your newsletters and share with us any tips you might have, by leaving a comment below.
References