Using Our Change of Address Postcards
Clicking on any of the images below will take you to a larger version of the image so you can take a better look, whereas using the download link means you can easily save the change of address template to your hard drive, and print out for your personal use.
All images are downloadable in JPEG format, meaning you can import them into many software programs to either print as they are, or to change as you wish to make them all your own.
The standard measurement for postcards is 6" x 4", which is what the dimensions of these postcards all measure, but they should all scale up and down pretty easily to within an inch or two, before they start getting distorted.
We've Flown The Nest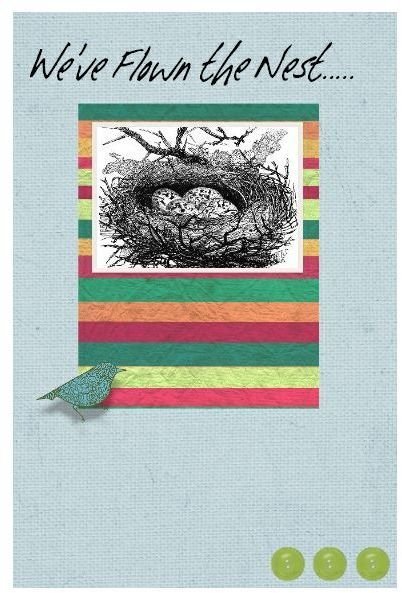 This unique design has room for text directly underneath the picture of the bird's nest, or this section can be left blank effectively too, using it instead as an extended frame. Whichever way you choose to use this change of address postcard, there is plenty of room in the duck-egg blue space at the bottom of the card, for all your change of address details.
As this is in a JPEG format, it can even be used in a word processing package like Word, with a text box over the top to include your new address. You can of course print it out "as is", and hand write your address if you don't have too many to send out.
Download Link: We've Flown The Nest – New Address Postcard
We Have Moved – Cartoon House
A modern take on moving house, this design incorporates a jolly and bright house image, with plenty of room underneath the headline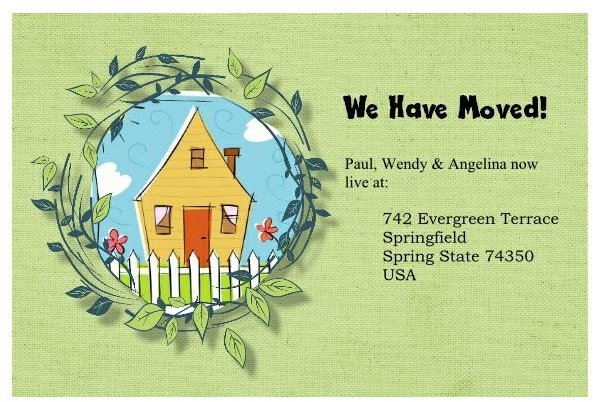 text to add your change of address notification to the postcard. You can of course use the back for other details you might want to share about your new house, such as if you are keeping your existing phone number, when the move will take place (if it hasn't done so already), etc.
Note: The downloadable postcard will have the house image, but will only have the headline phrase text "We Have Moved" on it, allowing you to write or type your own details underneath; the image here is designed to show you how you could format such details.
Download Link: Cartoon House We Have Moved Postcard
We Have A New Address – Red Door Postcard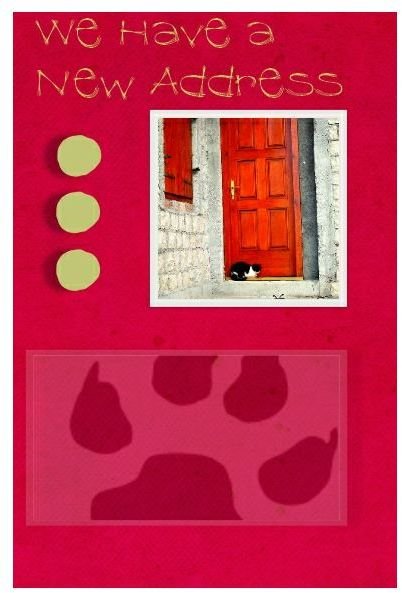 The predominant color of red, and in particular a red front door, is considered very lucky. The paw print frame at the bottom, is designed to include your new address details. However, if you aren't a cat lover you can easily just use paste over this area with a blank text box, and use some photo editing software to make the cat scat – it would be an effective change of address template design either way.
Download Link: We Have a New Address Red Door Postcard
New Address Vintage Design Postcard
This feminine design won't appeal to everybody, but the richly decorated front to the card will make it popular with lovers of all things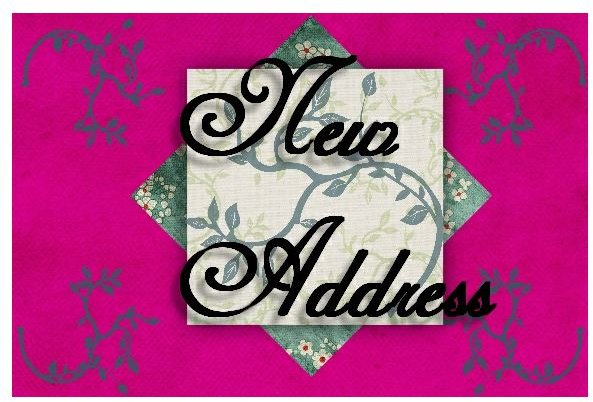 vintage. Due to the detailing on the front of the card, you would need to include your new address and related details on the back of the new address postcard. A design like this, with lots of textures, would look even more effective printed on textured card to give a really tactile feel. You could also add ribbon embellishments; use either real ribbon or incorporate some free digital elements, to make the design even more unique.
Download Link: New Address Vintage Design Postcard
Buckingham Palace – Use Google Earth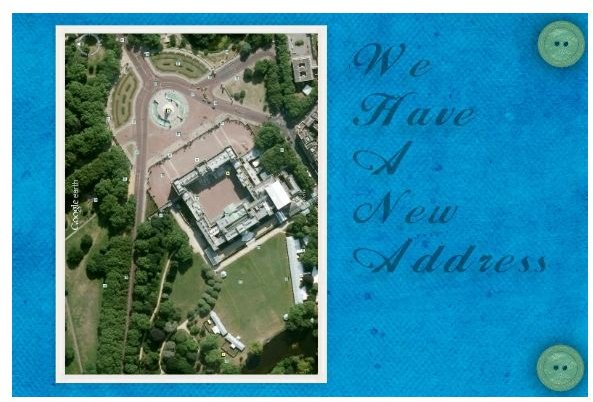 You can either use this new address postcard as it is, writing your new address either under the headline, or on the reverse of the card, or you can insert your own image using Google Earth.
The image here rather grandly suggests that your new residence is Buckingham Palace, which you could keep as is, to add some humor your change of address postcards, or you can search for your new abode using Google Earth, and taking a screenshot to incorporate into your card. Or why not use the humor idea, and add a picture of a castle instead – after all, every man's home is his castle!
Download Link: Buckingham Palace Change of Address Card
References
All the above templates were created by the writer using Serif CraftArtist Compact. You are free to use the templates for personal use but not as part of a commercial venture.
Image Credits:
Bird's nest – Clipart ETC
Red Door – Gezim Mavric/Flickr
Cat Paw Print – Clipart for Free
Buckingham Palace, Google Earth