Some Advice on Football Pools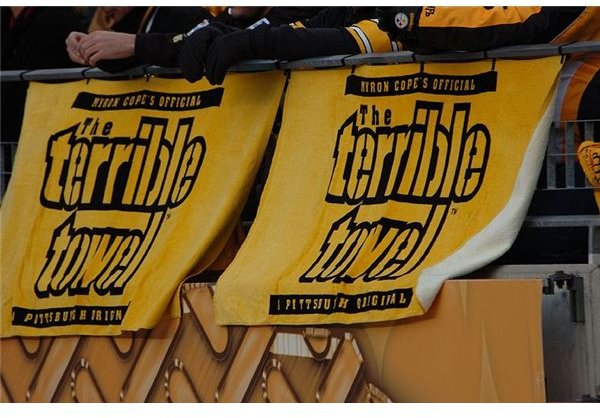 Before you jump right to the links for our free football pool templates, there are some things to consider when holding a football pool in an office or jobsite environment. As long as senior management is aware of the football pool and the money in the pool is completely paid out—meaning no one gains from "running" the pool—consider yourself safe as far as office pool legalities go.
Those attempting to make a profit from office football pools should keep in mind that this is really gambling, and if gambling isn't allowed in your state, you should implement the suggestion above.
So, it's time to put down that Wii controller, stop playing Madden All-Play, and start creating your football pool!
Image Credit (Wikimedia Commons)
Printable Football Templates – Buy a Square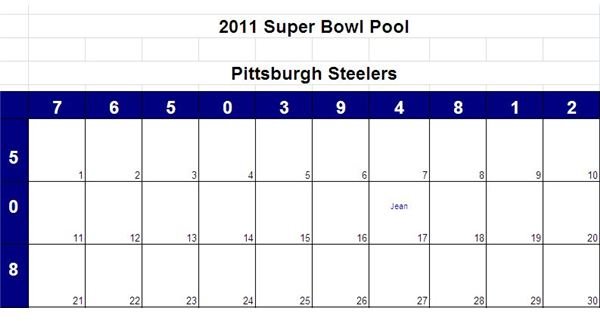 Our first football pool template is the one that is most widely used as it allows up to 100 people to play. As you can see in the screenshot to the right (click to enlarge), there are essentially 100 squares and each person can buy a square for, say, $5 bucks. The score after each quarter determines the winner. If this were a $5 dollar-per-square pool, the first through third quarter score winners would receive $100 each and the fourth quarter or final score winner would receive $200.
For example, in our screenshot example (which is for Super Bowl 2011) at the end of quarter 1, you can see that "Jean" has square #17. If the Pittsburgh Steelers' score is 4 or ends in a 4 (say 24) and the opposing team has zero points or a score that ends in a zero (say 10), then "Jean" would win $100 for the first quarter, and so on.
You can download this free printable football template pool here. Another option is to allow people to purchase more than one square instead of finding 100 people. You can also lower the amount of the cost of each square—even $0.50!
Football Pool Templates – Pick the Winners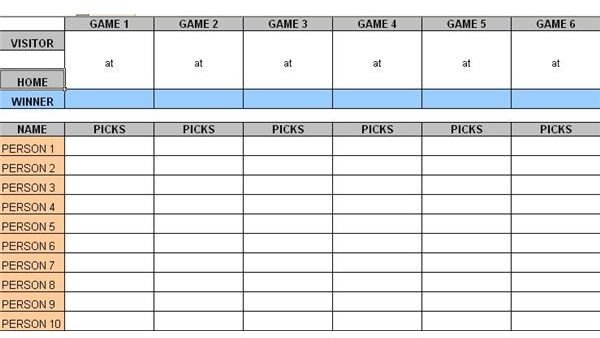 This next favorite football pool template is where each player pays a set amount and picks the winners for each team, each week (see screenshot to the left). The person (or persons) who picks the most correctly wins or split the winnings. You can download this type of pick-the-winner football pool template here.
Another variation of this (which is included on the template) you can use or not use is the requirement that each player must choose the total score of the Monday Night Football game—meaning the combined scores of both teams. In the case of a tie, the person who is closest to the total combined score of the Monday Night Football game wins the entire pot.
No matter which football pool template you think will work for you, the square/name offering or the pick-the-winner pool, both are easy to use; and with these free printable football templates, you can get your pool up and running before you know it! Why not start with this year's Super Bowl?
Screenshots courtesy of author.