Saxon PC Flash Grids Review & Buying guide
It's often necessary to narrow the beam of light produced by your shoe mount strobe in order to highlight a key element of your photograph. Grids have long been a popular tool for studio photographers needing to narrow their light, now grids are becoming popular with shoe mount flash users too.
Saxon PC offers an inexpensive choice for a photographer wishing to try a grid for his or her shoe mount flash. The company offers several Flash filters in foam housings that serve as grids for a shoe mount strobe. These devices simply fit on the front of your flash (you need to order the right size for your specific flash) and fire away. The company offers a variety of grid filters ranging from 10 degree to 65-degree units and a variety of steps in between. It even offers a small grid attachment to fit on the built in flash found in many DSLRs.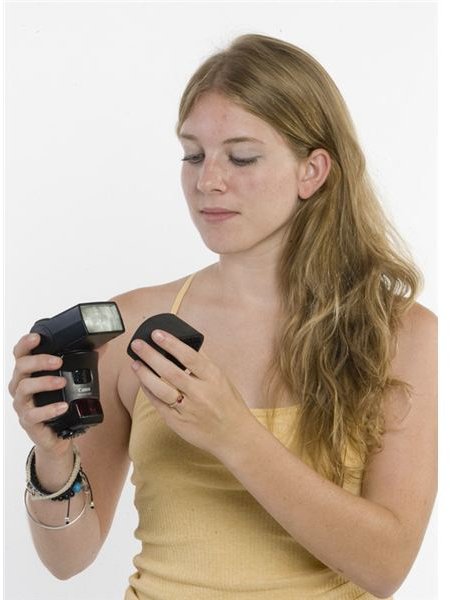 Ease of use (4 out of 5)
The Saxon PC grids are lightweight, easy to use and take up minimal space in your camera bag. The main potential hassle with them is if you upgrade to a better flash, your current grid may not fit on the new flash unit.
The grid for the camera's pop-up flash is a bit on the tricky side. It's taped in place with a reusable tacky plastic, that provides a less than secure grip. Using this device with your camera's pop-up flash will be challenging at best.
Price to Value (4 out of 5)
Saxon PC grids cost $6.49 each (except for the 10 degree version which is about $8) and package deals are available that make the per unit cost a bit less. Considering how useful a grid attachment can be, coupled with the low price, these products make an attractive option if you think you'll use them. Construction quality is about what you'd expect from such an inexpensive light modifier, so you'll want to take care of them. Tossing one in the bottom of your camera bag and then putting heavier stuff on top of it wouldn't be a good idea.
Saxon PC provided me with several grids for the David Busch Quick Snap Guide to Photo Gear.