Overview of AKVIS ArtSuite v.4.0
ArtSuite is part of the line of digital photo editing applications developed and distributed by AKVIS. Like many of their products, ArtSuite can be purchased as an independent program or as a Photoshop plugin. The plugin version is also compatible with a number of other popular image editors including Paint Shop Pro and Photoshop Elements.
This particular offering from AKVIS allows users to modify digital photos in two ways. First, it supports a number of creative and texture effects designed to give photos a more artistic look. Secondly, these artistic effects are accompanied by picture frames and edge effects that can be used to digitally frame any photo.
In this review, we'll take a look at how well ArtSuite stands out as an independent application and we'll evaluate the plugin version's functionality when combined with host editing programs.
Installation and Setup (5 out of 5)
Although ArtSuite does have both Mac and Windows versions, we only looked at the Windows application for this review. Everything went as expected during the installation of both the plugin and the standalone application. If you run into problems with the host editor recognizing the plugin version, you may need to make a couple of adjustments to the host editor's preferences. For example, Paint Shop Pro users can refer to these instructions for installing third-party plugins.
Ease of Use (4 out of 5)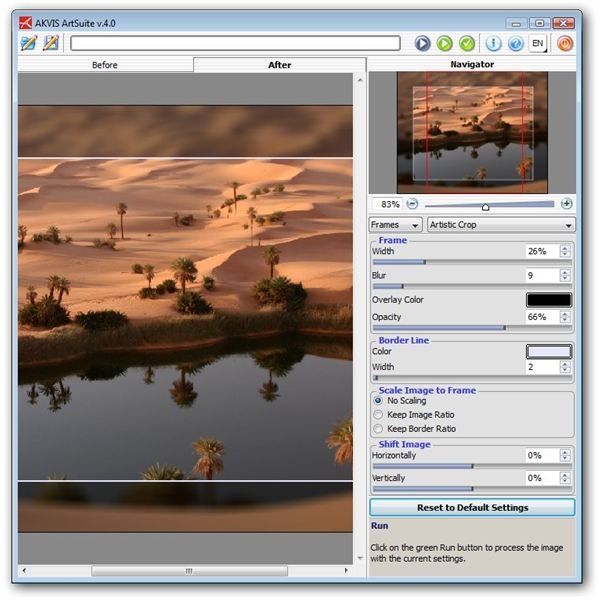 The user interface for ArtSuite is slightly more complex than that of some of the other products by AKVIS, but that is mostly due to the number of features contained in the application. However, even with all of these added options, it's still easy to navigate through the application.
Each setting in ArtSuite can be modified with a slider, and the Before and After windows in the application let you preview any changes before actually applying them to the photograph. For those effects that use textures or graphics, you can just click on the image associated with that effect to choose a new one.
Overall, most should have no trouble acclimating themselves to the software within a short time, and those who have used other AKVIS products ought to be able to jump right in immediately.
Continue on to the next page for the rest of our review of AKVIS ArtSuite.
Features (5 out of 5)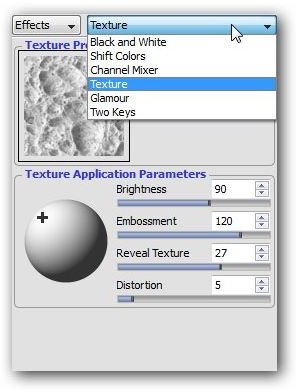 One of the problems found in many digital photo editing applications that promise to make applying effects painless and fun is that the number of these effects included with the program is limited. This is definitely not the case with ArtSuite. The abundance of textures, frames, and masks that come bundled with the software should keep most busy for a long time. In fact, there are so many that each category is divided up into numerous subcategories to make browsing through the collections much easier.
If you do ever reach a point where you'd like to add new elements, you can do so with just a click of a button. Just make sure the graphic is saved as a BMP, JPG, or PNG file and you can import that image into the software. Once the image is imported, you can make modifications to it in the same manner that you would use to tweak any of the included design elements.
Price to Value (4 out of 5)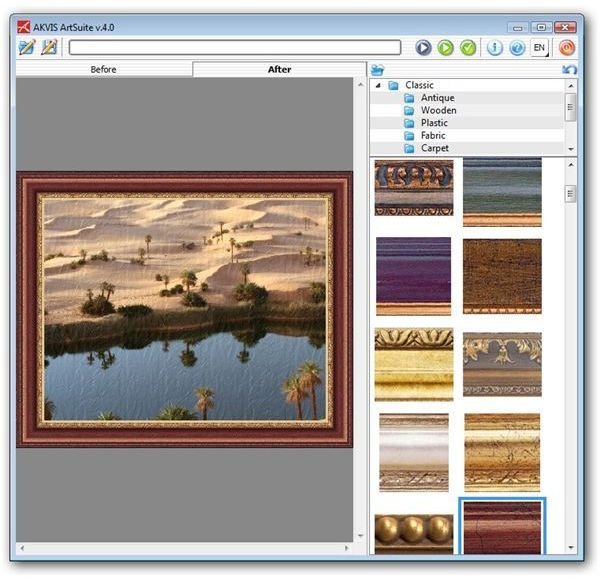 There are a few different license options for AKVIS ArtSuite: Home, Home Deluxe, and Business. The Home license covers one product (either the plugin or the standalone) and runs $49. If you're interested in both versions of the application, you can pick up a Home Deluxe license for $65 (a savings of $33). Those planning to use the application for commercial purposes will need to purchase a Business license for $86. This latter option also covers both the plugin and the independent versions of ArtSuite. All licenses allow you to install and register the software on two machines.
Overall Rating (5 out of 5)
ArtSuite is an excellent editing tool that can be used to create anything from fun, whimsical designs for family vacation photos to professional, artistic effects for more serious photo editing jobs. In addition, the price of the software is quite fair considering all of the included tools in the software.
The application also works seamlessly with other AKVIS photo editing tools. For this reason, it might be worth checking out some of the bundled packages before making a purchase – you can save quite a bit with these collections.
If you'd like to try the software before making an investment, you can find a free 10-day fully functional trial version available for download at the AKVIS web site.