For those in the freelance writing business, competition is tough. Whether you write for print or the web, you send out your queries and submissions, and hope that this one will be accepted. But did you know one simple tip that will give you an edge over many of your competitors? Include pictures.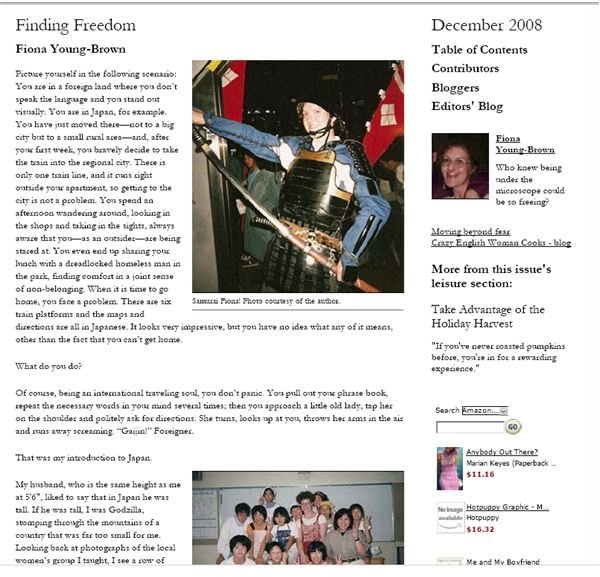 When you mention to an editor that you can provide pictures to accompany your article, you are making their job easier. You are adding the visual component to the piece, which saves them the time of hunting for a photographer or stock images. What's more, the photos you send will offer a much better insight than any stock image ever could. After all, you wrote the piece so chances are that you have been able to capture what another photographer might miss: a particular close-up of someone at work, that certain angle, or that one-off shot that you just had to be there for. Photos of my two dogs enhanced my piece about the trials of raising two puppies at once, and an article about what I learned from living in Japan was far better when it appeared with photographs of my experiences.
Now you may be thinking that you have no photography training but that doesn't matter as much as you might think. The web makes it easier than ever to find great photography advice, and provided you are armed with a good camera, you are ready to go.
That's right – you need a good camera. Photo submissions to magazines need to be of excellent quality so images from your camera phone or a disposable won't do. Last year, just after I won a book contract which required a significant number of photos, my beloved SLR camera died. It was time to upgrade to digital. I knew I could not afford a new digital SLR camera, but I also knew I needed something I could rely on. I've had great results with my Canon Powershot and I was pleased to see several photojournalists recommend it. You don't have to spend an absolute fortune, but you do need something that will offer a range of different settings, and can save in a variety of formats and with a decent amount of detail.
Once you have a camera you like, be sure to take it everywhere. I've gotten into the habit of building my own library of stock images so that I always have something to hand over when I submit an article. It also gives me plenty of opportunity to play around and experiment with my shots. Best of all, it's increased my success when querying editors, and in the freelance business, that's what it's all about.