New Photography Bag - the Kiboko - unveiled by Andy Biggs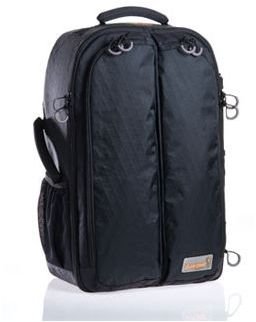 The Kiboko
All About the Bag
Everything seems to have been thought of when designing bags for Gura Gear. The Kiboko is proof of that. It is the lightest bag of its kind and designed to accommodate professional to medium sized SLR cameras and a 500mm and a 600mm lens. Constructed from the same waterproof, lightweight fabric used on winning sailboats, the bag only weights 4 pounds, one-third the weight of traditional bags .
The design of the bag's structure is very well thought out. The fabric, called Dimension Polyant VX-21, is tear resistant and lightly padded to protect expensive equipment. The zippers, large loop like devices, were designed so that gloved fingers could easily open and shut the different compartments.
The interior is fully customizable thanks to the butterfly access system. Small, detatchable panels can be inserted so that film, lenses and more are all organized and held in one place to reduce searching and mess.
The Kiboko has two useful carrying options. It can be converted from a harnes style backpack to shoulder bag with ergonomically placed handles. The harness wraps around the waist and chest for maximum comfort and has quick-release snaps to let the photographer remove the bag in a hurry for that once-in-a-lifetime shot. The straps are retractable, making the bag even more user friendly for photographers that must travel often. Gone are the days of tucking straps into bags before boarding airplanes or trains.
Other Specifications
Additional features:
Small dimensions: 9.5x14x20 inches
North American carry-on compliant for domestic and international flights
Comes with a removable rain cover
Bag has large outer pocket for carrying a full-sized tripod
The bag's retail price is $399 and can be purchased at the Gura Gear website.
More Information
For more information on the Kiboko bag, Gura Gear, or Andy Biggs visit his website or the Gura Gear website.