Correcting Skin Tones for Portrait Photography
You can use several different strategies to correct skin tone on your portraits, depending upon your skill level and the image editing software you have on your computer. Most of these techniques require some trial and error, however.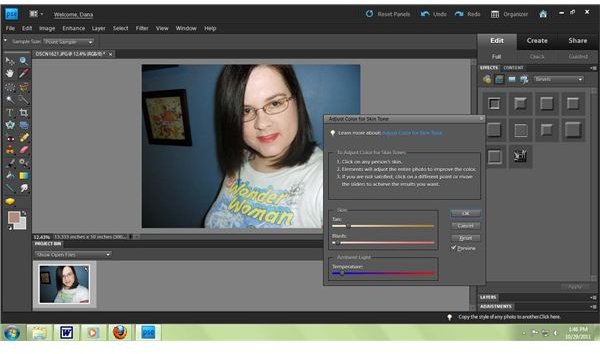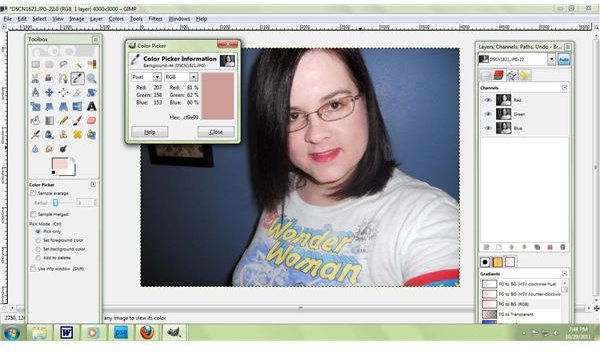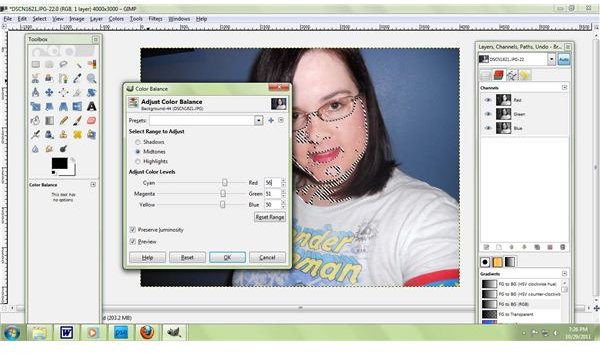 Easy Image Editing Tools for Printing Perfect Skin Tones
Many image-editing programs designed for home photographers have filters that will automatically correct skin tone for a portrait. For example, in Adobe Photoshop Elements 9, you can go to Enhance – Adjust Color – Adjust Color for Skin tone to use an automatic filter that corrects the skin tone of your portrait subject. This filter also contains sliding scales that you can use to adjust the results further, if desired.
If you are a serious portrait photographer, there are special software programs that you can buy that focus specifically on color correction for portraits. PhotoTune 3 is one example of such software. The program can be used as a plug in for Photoshop, Lightroom and Aperture, or as a standalone application. There is a free 30-day trial download for this program on the manufacturer's website.
CMYK and RGB Values
If your software supports CMYK editing, you can adjust these numbers to help print perfect skin tones for your portraits. The numbers you should use for this process will vary according to the nationality of your photo subject.
Caucasian= C=6, M=27, Y=32, K=0
Asian: C=8, M=30, Y=48, K=0
Light skinned African American: C=21, M=53, Y=69, K=3
Dark skinned African American: C=46, M=67,Y=77, K=50
Of course, it should be noted that these numbers are only a starting point. No two people have precisely the same skin tone and lighting can make a difference in how saturated your photo subject's complexion appears.
If you have a digital image-editing program that does not support CMYK editing, you can achieve similar results by changing the RGB numbers for your image. GIMP, a popular free program for editing digital photos, is one example of software that uses RGB as the default mode for image files. In GIMP, you can see the RGB numbers for any area of your photo by using the eyedropper tool, then pressing your shift key.
With this approach, the most important thing to remember is that red should always be a greater value than green and green should always be a greater value than blue. Asians and Hispanics tend to have higher green values for their skin tone than members of other ethnic groups do, while Caucasian photo subjects generally have only slightly more green than blue in their skin tone. In Caucasians with very fair skin, the green and blue values may actually be equal.
Regardless of whether you are editing color values using CMYK or RGB numbers, avoid making your subject's skin seem too reddish unless you are trying to demonstrate that the subject has sunburn.
Useful Tools
As you are adjusting skin tone for a portrait, it is helpful to make sure you understand how to use the basic tools available in your software program. Tools you will use to correct skin tone in your image editing software include:
Magic wand, typically represented by an icon that looks like a magician's magic wand
Clone, typically represented by an icon that looks like a rubber stamp
Smudge, typically represented by an icon that looks like a hand that is pointing at a piece of paper
Blur, typically represented by an icon that looks like a drop of water
Airbrush, typically represented by an icon that looks like a paintbrush with a squiggly line going through it
Burn/dodge, typically represented by an icon that looks like magnifying glass
The "Undo" command is also very useful when adjusting skin color. However, this feature will work much better if you use small strokes when working with the tools in your image editing software. Small brush strokes also give you better control over the results of the project.
Save Often
When adjusting skin tone for color, it is vital that you remember to save your work on a regular basis. It may even be a good idea to save several different copies of your image representing various steps in the retouching process. Correcting skin tone can be very time consuming. If something goes wrong, you want to be able to revert to an earlier version of the photo quickly.
A Word about Printer Ink
Sometimes, you will find that your image looks perfect on your computer screen, but doesn't print well. A common reason for this issue is using incorrect printer settings. When printing photos, always use the "best" quality option and select "photo paper" from the paper type menu. It is also a good idea to make sure you are using photo paper and ink that is recommended for your printer. Refill inks, while a good way to save money on printing black and white documents, often result in photo prints with a reddish or bluish tint.
References