The Voice Recording Photo Postcard: Benefits, Features & Buying Guide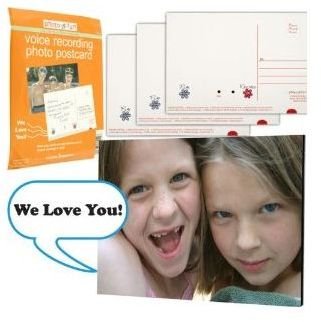 What is a Voice Recording Photo Postcard?
A voice recording photo postcard is simply as it sounds – a photo postcard that allows you to record a short voice message. Often a voice recording photo postcard will come with an adhesive backing, which allows you to add your own photo print. Think of this as similar to sending a text message to Grandma. You know Grandma will never text anybody, but she gets excited when you send her mail, even if she doesn't LOL. With a voice-recording photo postcard she sees your face and hears a short message you record and can read the note you write. That's a three-for-one hit all for one low price.
People love receiving these. This is about as personal as you can get with a postcard, in my opinion. Many of these postcards take a 4x6 inch print, which is easy to make at many photo labs, or even right off your printer at home. You can bring these on vacation, print out your digital images at a drug store and send a very personalized greeting anybody would love to receive.
How Does a Voice Recording Photo Postcard Work?
A voice recording photo postcard has a small microchip-based recorder and will come with instructions on how to use it. Most of them will require you to press a button to record, and then one to stop recording. You listen to your message and then re-record it if you are not happy. When you are satisfied, adhere your photo to the front, whether a great portrait or a fun vacation photo, put a stamp on it and pop it in the post box. The card has instructions for the person you send it to as well, describing how he or she can listen to the message. It's really that simple.
Where to Buy a Voice Recording Photo Postcard
Amazon.com is always my first-level go-to resource for finding things. Sure enough, they have voice recording photo postcards at a good price. Other places to look include eBay and Google Shopping. I have seen these while browsing in stores such as CVS and Kmart as well, so you might find a voice recording photo postcard for a bargain right around the corner. Keep your eye open the next time you need to go to a variety store like these. Be sure to look in the computer and electronics section, as well as in the photography and office supply areas. Different stores may classify these differently.
So get out your camera, take some self-portraits and get ready to use a voice recording photo postcard next time you want to send someone a personal greeting. It will be a greeting like none other – one your friend will remember for a long time to come.
References
Image by Photo Fun, manufacturer of voice recording photo postcard.
Product knowledge gleaned from Amazon.com and author's own experience.