Easter is right around the corner, and it's time to start coming up with those Easter photography ideas. You know that you want at least one with the Easter Bunny, but what else? Well, here are some very usable ideas that you can apply to your Easter photography session.
Fun Poses
First of all, try some fun poses. Instead of simply taking a picture of your child in their Sunday best, add some bunny ears or use some props. For example, place a bunch of Easter eggs all over the floor and capture your toddler playing with them and laughing.
Or, have the child lie flat on his back surrounded by the eggs, and take some pictures from above while he looks up at you. If these are indoor photographs, try to use as much natural lighting as possible. Open up some windows, and place some lamps around the scene if you need more lighting. Try not to use flash as this will overexpose the image and probably cause red eye in the photos, not to mention the problem of having a blinking toddler.
Silhouettes
Silhouettes create dramatic pictures, especially for outdoor pictures. This technique is especially effective when capturing the Easter egg hunt. To capture silhouettes, you need to turn off your flash and backlight your subject. This may mean setting up some lights behind the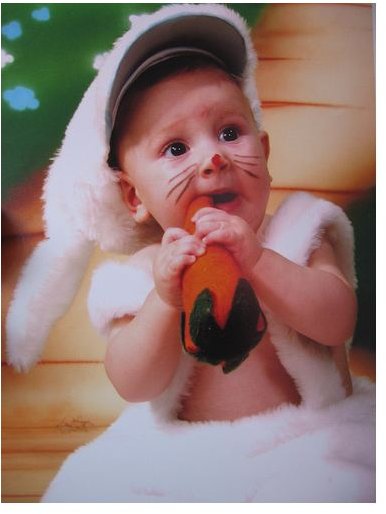 play area, or simply capturing the images at sunrise or sunset.
If you can get the Easter bunny in on the action, capture your child picking up an Easter egg while the Easter Bunny helps her find them. Don't worry about having your child look at you. You don't need their smiling eyes for every picture. Instead, focus on the action. If your child is a fast mover, consider turning your camera on the Continuous or Action shooting mode.
Live Animals
Many people consider using live props like chicks or bunnies in their Easter photography. If you already own a rabbit that your child has already played with, then you should go for it. Dress up your child in their best clothes and capture them interacting with the animal. Try to get the child holding the animal and smiling at the camera.
The animal is going to be distracting, but this picture is especially effective if you can get both the animal and the child focused on you. Use a clicker to grab the attention of the animal you intend on photographing, and try to encourage your child to look at you. Focus only on the facial features of the child and the animal if possible, and blur the background.
This is going to be a studio shot so use a solid colored, uncluttered background. Light blues and greens work really well for Easter. You can also consider taking these shots in black and white. If your camera has a good black and white setting, then use it. If not, simply remove the color in post-production.
References
emarquetti, https://www.flickr.com/photos/emarquetti/129512711/in/set-72157594577419808
Burian, Peter. "Easter Photography Tips", https://sync.sympatico.ca/photography/seasonalphotography/articles/easter-photography-tips.htm
Becoming Mom, https://www.becoming-mom.net/2010/03/23/easter-photoshoot-ideas-props/