Introduction
Heil microphones are some of the best quality microphones in the world. They are used for a variety of purposes in broadcasting, recording and live performances. Its PR series includes dynamic microphone that are ideal for live sound, recording sessions and live sound recording. Here five of the most outstanding products in this line of microphones.
PR 22

It features the ability to handle +140dB SPL, a wide frequency range and low handling of noise. This set of features make it leaps and bounds better than what the microphone industry has been used to for the past decades. Whether it is vocals or instruments, this microphone can be utilized for its superb dynamic range and its great frequency response. Its design is perfect for broadcasters who need a mic in hand because it is compact and sturdy. You can buy it for $140.
PR 30

The PR 30 is composed of materials that make it very strong and tough, perfect for rugged use. These materials include iron, boron and neodymium. It features an outstanding pattern control and a great dynamic range, all thanks to its materials that compose a very stable and strong magnet structure. It fights off noise with its design that involves a Sorbothane shockmount placed on top of a non-resonant fixture that is decoupled from the rest of its large steel body. You can buy it for $249.
PR 35
This microphone offers great performance because of its design that features a large aluminum low mass voice coil assembly and a unique magnet structure. Noise is not an issue with its efficiently placed hum bucking coil that is wound tight and secure. Unwanted audio is also not an issue thanks to its cardioid pattern with 180 degrees off axis placed directly behind the microphone. You can buy it for $274.
PR 40

Featuring a similar list of capabilities that are found in the PR 35, this microphone offers the same quality sound that eliminates the threat of noise and unnecessary sounds. It only differs in its mounted design as it is specifically optimized for live broadcasts as opposed to the PR 35's hand-friendly design. Without the need to be held all the time, users can use it even at a very close range thanks to its mesh screens and internal breath blast filter, two components that eliminates pop and excessive sibilance. You can purchase this microphone for $325.
PR 48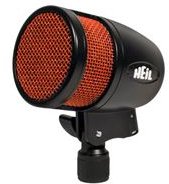 This kick drum microphone features a 1.5-inch large diaphragm dynamic element that is enclosed and sealed inside a vulcanized shockmount, a low pass filter and a total frequency response at 30Hz-8.5kHz. It is designed to make connecting cables easier by having a slanted entrance that leads to the 3-pin XLR. A balanced output of 600 ohm is expected when you use this microphone. In addition to all that, it looks pretty and stylish too. You can get it for $220.
Conclusion
Heil microphones are known to provide both style and quality sound that breaks all expectations to the microphone design we have been used to for the past several decades. It boasts revolutionary technology and it is quite true as evidenced by these five microphones.
References and Image Credits
https://www.heilsound.com/pro/products/pr22/
https://www.heilsound.com/pro/products/pr30/
https://www.heilsound.com/pro/products/pr35/
https://www.heilsound.com/pro/products/pr40/
https://www.heilsound.com/pro/products/pr48/