Fidelity Retirement Rewards Credit Card Review
Fidelity 2% Cash Back Rewards (4 out of 5)
The Fidelity Retirement reward credit card boasts 2% cash back contributions to your IRA account. The generous 2% cash is higher than the more standard 1% cash back reward offered by most credit cards and serves to make this offer one of the sweetest deals around.
However, keep in mind that even though the IRA contributions would be cash back from Fidelity, for tax purposes, they still count as contributions made by the taxpayer. In other words, if you earn $4,000 cash back from your Fidelity card, you can only contribute another $1,000 to any IRA for 2009, unless you qualify for the IRA catch-up contribution. A person cannot contribute the full $5,000 to an IRA from their pocket PLUS the cash back. They are part of the same pool of money.
If you are looking to make your full IRA contribution for the year via Fidelity's cash back program, you will have to charge a lot! At a 2% rebate rate, one would have to charge $250,000 in order to get a full $5,000 credited to your IRA account.
Rewards Not Just For Retirement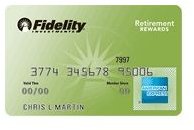 While the Fidelity Retirement Rewards American Express Card is named for and aimed at using the cash back from the card for retirement savings, there is actually no requirement that the credit card rewards be deposited in an IRA account. Cash back from the Fidelity credit card can be deposited into any Fidelity brokerage account, even a regular non-IRA account.
In fact, Fidelity cardholders don't have to take cash back at all if they don't want to.
Fidelity Rewards are earned at the rate of 2 points for each $1 of spending. The card holder CAN convert those points to cash back rewards if they want to, but they are under no obligation to do so. Card members are also eligible for other WorldPoint rewards options such as travel and merchandise as well.