What is the Battery Bank?
If you're someone like me who uses their Touch Pro between classes, and in the office a LOT, you know how easy it is to tear through your battery power.You may also the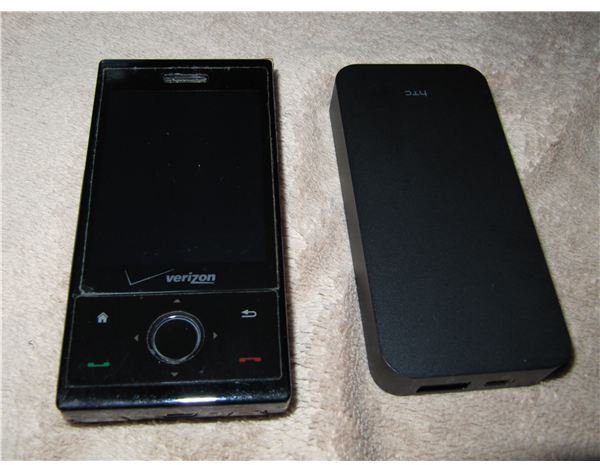 need to carry (up to) 3 batteries to just get by in the day!
Then what happens when you upgrade with all these wasted accessories? Usually their useless!
Well, I heard about the HTC Battery Bank, a nifty device that is a brick (nearly the size of the HTC Touch Pro) and offers (as advertised) THREE TIMES the battery life of a standard HTC Touch Pro… This I thought was too good to be true, so I decided to give it a run for its money. Consider this more of a in depth look at the device, rather a review. However, I will still give my conclusion of the devices value at the conclusion of this article.
As of now, the best deal I can find online is via MSGDigital @ (https://www.msgdigital.com)
Now, on to the Nitty Gritty!
What's inside?
So, on to the specs! This beast offers a gnarly 2680 mAh, meaning they did lie to us in the advertising. Rather than charge 3 times over. It has (double) the battery life to a standard OEM battery. This essentially means you bought two OEM batteries in a convenient case (which I might add is a Universal USB charger!). When they say it will charge your device 3 times over, they apparently mean it will charge it twice, then give you a full third battery, Gotta love those HTC scientists!
The device, unlike the TP, has no shiny surfaces. It wont fingerprint (Like those pesky AC transformers) or scratch too quickly. It's also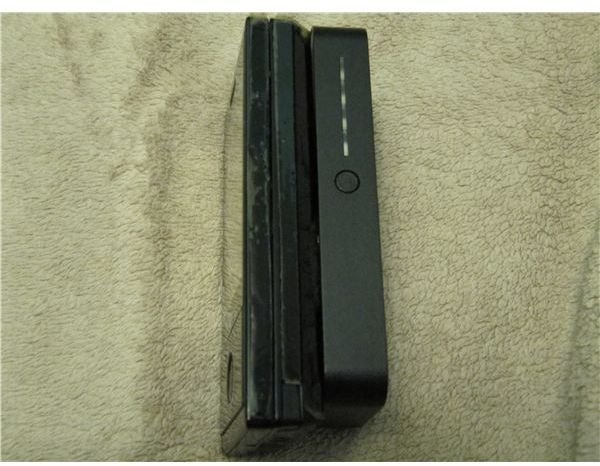 textured with a rough surface, and although composed of hard plastic it feels heavy in the hand and well built. You can feel the $70 at work!
Now, dimension-wise, this device is 103mm (L) by 50 mm (W) by 14.5 mm (H) and weighs 90 grams. In other words. This device is bigger than the HTC Diamond in height and length, and just 1 mm smaller in width. Keep this in mind, because it has to go in your pocket with your device to charge! It's lighter (By 20 grams) than the Diamond, but this is not a functioning device, its just a battery! Be prepared to stuff this with your Touch Pro in the pocket and have the wires stick out!
When you purchase the Bank, you are given a USB adapter, manuals, and the bank. It comes with four Green LEDs and a test button to let you check the charge while on the go. However If you get a red light, your device is defective or you're not using it correctly! (Thankfully, I was red light free). Since the device has a 2680 mAh battery, be sure to give it a good 6-8 hours before giving it a run through.
The Drain Test
I let my device charge overnight, but I was pretty sure (After about 4 hours) I had a full charge, but I let it drip through the night to ensure a complete charge as it was new. The following day, it was testing time.
To test this device, I used two pieces of fantastic software:
Wunder Radio (Radio Software to drain my battery faster)
Dr SigStat (mAh usage monitoring, along with signal strength)
I also used my Touch Pro running the following statistics
MIGHTYROM 6, Using the 3G Data connection ( to simulate regular internet access), not practically using the device aside from the radio running during the test, and stopping the test when the battery bank stopped discharging and I lost some battery)
After setting up Wunder Radio to play some classical music, I plugged in the Battery Bank, muted the volume, and waited.
After about 45 minutes, we lost one of our four LEDs. however, by 1:30, we were down to one LED. I got really worried, as the last thing I wanted as a lemon battery bank that gave me 2 hours of battery life.
So I waited on that little LED to die,
…and waited…
Conclusion!
After Four Hours of constant Radio playing, and no interrupting phone calls or SMS messages, our Battery Bank had given out.
My device was toasty hot, as the processor was in overdrive. I clocked in nearly a gigabyte of Data usage, and this entire time was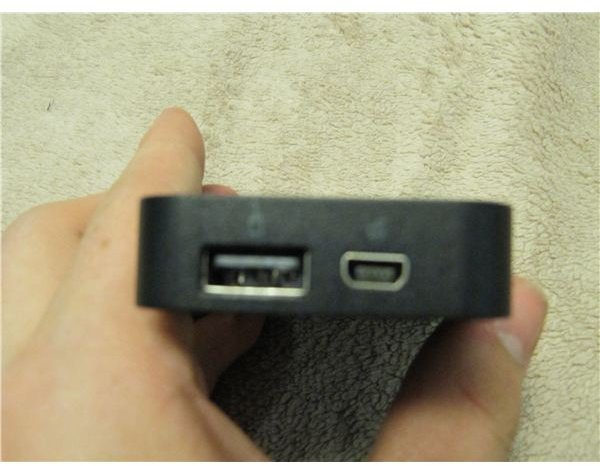 using constant 3G radio listening, something that sucks battery life like no tommorow! This can be easily doubled in time of heavy usage (Wtihout constantly listening to the 3G radio)
Taking into account that this is 2 batteries in one, I'd assume that's 2 hours each, and (including my device's OEM battery) a grand total of 6 hours of overdrive usage, something that can last me through a flight delay at an airport without Charging ports! I'd say this is pretty close to a significant advantage, since my TP with only the OEM battery will last me 1 and a half hours of such heavy 3G usage
So, what's the conclusion?
I'm VERY satisfied with my investment. OEM batteries can cost up to $30 each, and will not last for future device purchases. Our friendly, 5V DC 1000 mAh battery will last us for years. It can charge any USB device (So far, I tested my Bluetooth device, Zune, and even an external HDD that uses two USB ports!) and its size and weight are made up in this great, universal advantage.
I've even had instances of coming home (with light usage) with only 2 bars gone (Meaning I had a good 3 hours left of heavy usage, after a 10 hour day). Aside from size, the only other disadvantage is it doesn't allow charge/discharge simultaneously. So you need to use your device without a battery bank mid charge.
The only thing left to do is get a solar panel for it.