A Guitar Tuner – In Your Phone!
Pitch Perfect Guitar Tuner is an absolutely great idea – transfer a guitar tuner into a piece of software that can take advantage of a graphical display and mobile phone microphone. The result is a guitar tuner that runs on your phone!
It's available free, is very simple to use and has a nice interface, minimal controls and a detailed online Help system – the only thing that's missing from Pitch Perfect Guitar Tuner is the guitar!
Installation and Requirements
You can download Pitch Perfect Guitar Tuner free from www.nch.com.au. It's designed to run on Pocket PC or Smartphone 2003, Windows Mobile 5 Pocket PC/SmartPhone and Windows Mobile 6 – for this review and the screenshots it was tested on Windows Mobile 6.5.
The download is a PC-based EXE file installer – there's no Over the Air (OTA) option available so the app will need to be downlaoded to your PC, your WinMo connected via ActiveSync and the installer run in order to install to your phone.
Pitch Perfect Guitar Tuner Screenshots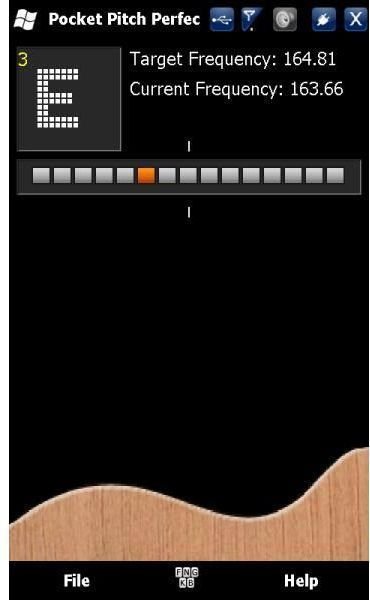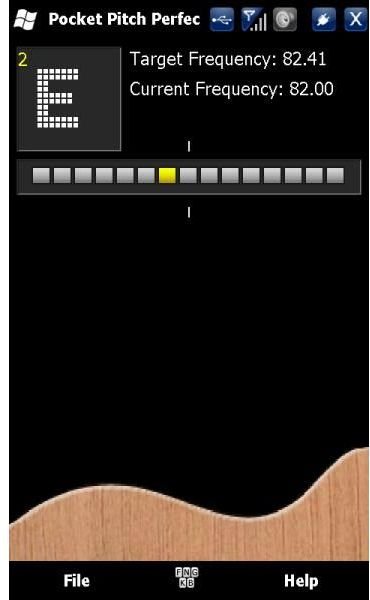 Using Pitch Perfect Guitar Tuner
Although Pitch Perfect Guitar Tuner will detect tones via your Windows Mobile device microphone, you can also take advantage of any line-in or external device input posts you might have on your phone.
Using the app is simple – you don't even need to tell Pitch Perfect which note you want. Simply play a string and the onscreen meter will tell you how far away you are from being tuned to the note the string is currently tuned to.
There's no inputting of required notes and no restriction to the standard tuning – Pitch Perfect Guitar Tuner will aid in the setting of any alternative tuning!
Impressive Tuning (4 out of 5)
As with any tuner, Pitch Perfect Guitar Tuner depends on a couple of variables – such as decent strings and a reasonably well-made guitar. Old strings are almost impossible to tune or remain in tune, while trying to tune a guitar with a warped neck is a total waste of time.
If you've got a well made guitar with a recent set of strongs however, Pitch Perfect Guitar Tuner should give you no end of useful and impressive tuning. The only problem you're likely to face is with your microphone positioning – many mobile phones have a side mounted mic, but if your Windows Mobile handset has a front-mounted mic then you'll need to stand it on its side to pickup the tones.
I've tested it on both a 6-sting electro acoustic and a 12-string acoustic, taking advantage of natural tones rather than amplified ones, and been very happy with the results.