Introduction
The Nokia 6120 classic is a feature-rich smart phone that offers easy-to-use interface, smart functionality, decent design and many things that one can expect from a very good smart phone. It is the smallest and lightest smart phone in the world that Nokia has ever made. If you are looking for an inexpensive smart phone, which is compact, lightweight and equipped with good set of features, this is it. The phone is no longer available from online stores but if you could find it somewhere at your local store, it will cost you around US $140
Design (4 out of 5)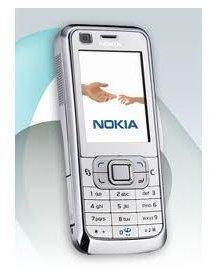 The Nokia 6120 is the smallest and lightest smart phone by Nokia, which measures 105 x 46 x 15 mm and weighs 89 grams. It is available in black or pearl white, with an attractive chromium trim that runs along the sides of its body. The phone is sturdy in your hands, and easily fits in your purse or shirt without taking up too much room at all.
The top of the handset houses only one button that turns the phone on/off, and also switches between profiles, and activates the phone and keypad lock too. The bottom of the phone has a USB port, 2.5 mm jack, and the charger port. The left side has the mono speaker grill, and the micro SD memory card slot, and the right side has the volume rocker and the camera key. The back of the phone includes the main camera lens along with a pleasingly powerful LED flash. The edges on the rear side are slightly beveled for a comfortable grip, and under the rear plate sits a Li-Ion BL-5B battery. From the side, the phone looks stylish, but from the front and back the appearance (especially on the black version) is let down to a certain extent.
image credit: nokia.com.cn
User Interface (5 out of 5)
The Nokia 6120 features a very responsive keypad. It is also easy to use as the keys are made of hard plastic and are of trouble-free and simple design. The navigation scroll key is soft and pleasing, as well as being very responsive. The keypad has the usual alphanumeric buttons, a direction pad, a Symbian S60 menu key and a C key.
The display shows the usual battery status, signal strength and connection availability, as well as the logo, along with a clock and date. Profiles are, as usual, customizable and one can easily make changes to them according to your needs and likings. A feature called "active stand by" is shown on the display and has 6 user defined shortcuts to give instant access to the frequently used applications. The phone also allows you to assign a shortcut to each of the 4 directions of the navigation key.
The distribution of the screen icons and their locations are user-configurable at different menu levels. Minimized but still running applications have their icons signposted by a blue mark for easy identification. Active applications are restored by pressing and holding the Menu key and are closed by pressing the Clear key.
Features (5 out of 5)
Nokia 6120 classic is a Symbian S60 Edition FPI smart phone with Quad band GSM, and Dual band 3G and HSDPA compatibility that let's you download internet data at 3 to 14 megabits per second. The screen can display 16 million colors and has a resolution of 240 x 320 pixels. The camera has a 2 mega pixel lens, which can capture videos at 320×240 resolution. A flash light accompanies the camera for taking bright pictures at night. A secondary camera is provided specifically for making video calls. The connectivity options on Nokia 6120 are Bluetooth and Wi-Fi. There is a FM radio that can be listened to through the built-in speaker or wired ear/head phones.
Nokia 6120 Classic Features (4 out of 5)
The Nokia 6120 comes with 35 MB of memory built into th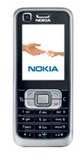 e phone, along with an external memory card slot, for extending the memory by up to 2 GB. Contacts from the SIM and phone book are not displayed simultaneously, but can be organized into groups, and assigned with a ring tone and speed dial. A quick office document viewer and a PDF reader application come preinstalled on the phone. In addition to these, there are several applications in the Organizer, four event types, to-do list, tasks, text notes, a unit converter, calculator, clock application with several repeated alarms, and a world time function, as well as a voice recorder.
The phone allows you to use a large array of file formats as ring tones. These formats include MP3, MP4, Mobile XMF, MIDI Tones, RealAudio 7 – 10, AMR, M4A, WAV and True tones. The phone features an advanced music player that supports a variety of file formats including WMA, MP3, AAC, AAC+, and eAAC+. The player can filter tracks by composer, artist, playlist and album and there are 5 built-in equalizer presets, and you can also customize them to suit your own taste. The player also includes special effect features like Reverb, Stereo Widening and Bass Boost. These really help to enhance the sound quality to a considerable degree when you use them, which is certainly one of the plus points of the Nokia 6120.
image credit: nokia.com.hk
Performance (4 out of 5)
The sound quality of Nokia 6120 is very good, but sometimes there is a one second delay between pressing a button and the music player responding. The video playback performance isn't that impressive — this is mainly because the display has only 240 x 320 pixels resolution. The 2 mega pixel camera takes good pictures but they are only good to view on a computer or TV screen as the phone's image playback is not of exceptional quality, due to the low-resolution display. The battery life as rated is 3.1 hours of talk time, which is good but may be not enough for many people.
Verdict (4 out of 5)
The Nokia 6120 is a perfectly assembled phone that comes with good set of features, and gives an average performance at a moderate price. The user interface is very responsive, and the pre-installed applications like PDF viewer and office documents viewer are additional goodies that come with the phone. It's a phone aimed to provide ease of computing, along with a smart look, to appeal to a wide audience.
Reference
Nokia 6120 classic support, https://europe.nokia.com/support/product-support/nokia-6120-classic/specifications