Introduction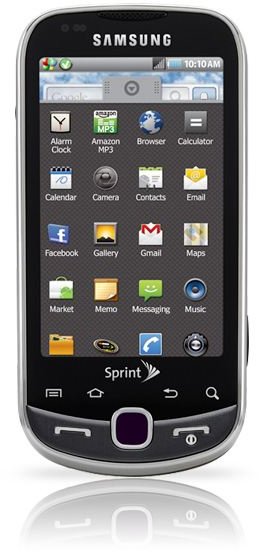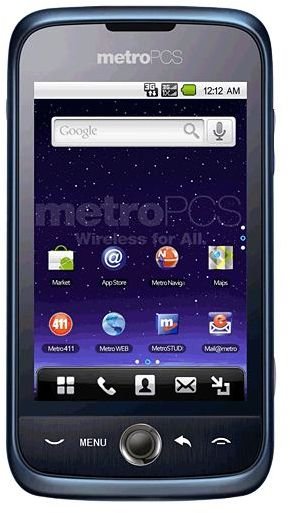 Two smartphones come before us today for a single judgement, which is the better phone? The two phones have one principle difference between them, the Huawei Ascend is a candy bar phone, this means it has no sliding keyboard, flip or D-pad, only the touch screen.
Whereas the Samsung Intercept has a sliding four-row physical QWERTY keyboard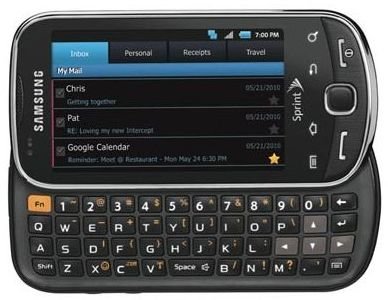 , so if you're someone who wants a smartphone with a physical keyboard then the obvious choice here is the Intercept, if you want a pure touch experience then turn an eye towards the Ascend.
Design
Samsung Intercept: The Samsung Intercept looks like any ordinary touchscreen Samsung phone, it has a 3 inch TFT 240×400 resolution screen capable of supporting 16 million colors. Beneath it you have four touch sensitive buttons (Menu, Home, Search) and beneath them you have three physical buttons (Call, Optical Trackpad, End Call). On the right you have the 3.5 mm jack and camera shutter key, on the left you have the hot-swappable microSD card slot and volume rocker, and finally on top you have the microUSB port for charging the phone and transferring data.
The back consists of the 3.2 MP camera lens and self portrait mirror, the only other feature behind the phone is the loudspeaker grill. The QWERTY keyboard has a very solid sliding mechanism, you have a dedicated number row, an orange FN button and four-way directional keys at your disposal. The keyboard does not have good haptic feedback and travel feels limited, but the keys are raised and large enough for comfortable typing.
The entirely plastic Intercept is well built but not strong, don't try running it over even with a fluffy pillow. It weighs 139 g so it's definitely not light and has dimensions of 113 x 56 x 15 mm which means it will easily fit your palm or pocket.
Huawei Ascend: The Ascend is a completely different creature in terms of design, it has an all plastic body accented with brushed steel and wood groove designs, the result is one ugly looking phone. Up front you have a 3.5 inch HVGA screen with a resolution of 320×480, so the Ascend just kicked the Intercept's screen right out of the ball park. Underneath the screen you have four buttons which are all housed in one elongated bar, so every time you click one of them it feels like the bar is about to bend, you also get a track ball in the center.
The lock/power button and the microSD card slot are to the left, On the right side we have the volume rocker and camera button. Above we find the microUSB port and a a bit of a problem, the 2.5 mm jack, you'll need a special pair of earphones if you want to listen to music on the Ascend. The back only has the lonely 3.2 MP camera lens plus loud speaker grill. The overall feel of the phone is flimsy, as if it might disintegrate while being used, it is also lighter by a slight margin at 135 g, but also slightly less palm friendly with dimensions of 116 x 62 x 14 mm.
Winner: Samsung Intercept
User Interface
Samsung Intercept: The Intercept pretty much runs stock Android 2.1 (it has been updated to 2.2) with very little interference from either Samsung or Sprint. As a matter of fact the only changes have been to the lock screen, instead of the double sided swipe you get on vanilla Android, here you get a single upward sweep, a few additional apps from Sprint (TV, Navigation, NASCAR, Football Live), and some slight modifications to the pull-down menu. Other than that it is pretty much all pure Android 2.1/2.2, it should be noted the entire UI is plagued with lags and misunderstood taps or swipes, overall it is a very lethargic and bumpy user experience.
Huawei Ascend: The Ascend is a pure Android 2.1 experience, with no interference at all, this means you get the better two-way lock screen, nor will you find any pre-installed apps or any outside clutter, although there is no official update to Android 2.2, the phone is capable of running it. Other than the facts highlighted above all the problems that plague the Intercept's UI experience are present on the Ascend as well, things run slowly and there is a lot of lag when swiping across, which can only mean trouble while texting on the virtual QWERTY, at least the Intercept has a physical QWERTY.
Winner: Samsung Intercept
Features
Samsung Intercept: Both phones are strictly designed to be used in CDMA compliant countries, calling is supported by 800 and 1900 while high speed connectivity is supported by EVDO rev.O, local connectivity is supported via Bluetooth 2.1, WI-FI and micro USB 2.0, so the only problem here is the Ascend's faster EVDO rev.A network.
Now here is something of a surprise, the Intercept has a 800 MHz processor with 256 MB of RAM and a 512 MB ROM, with these sort of specs what excuse does the Intercept have for such a lackluster performance in the UI department? It's obvious there are some bugs in the software and Samsung did not fine tune the phone before releasing it. The phone can support a 32 GB microSD card problem free.
At least the camera takes good pictures, low light condition pictures are horrible and it takes an average of 6 seconds to shoot, save and shoot the next picture, and there is no macro shot option or night mode, but in good lighting conditions pictures turn out crisp and clear with no blur or extreme noise suppression, even videos are YouTube worthy.
The good times continue to roll in the multimedia department. If watching videos is something you enjoy doing on your phone, then the Intercept can play MP4 videos at 720×480, but there is no DIVX/XVID support and videos encoded in H.264 do not play at all. Music is well catered for and supported formats are; MP3,WAV,and eAAC+.
Other miscellaneous features include — social networking integration, organizer, document viewer (Word, Excel, PowerPoint,PDF), Google Search, Maps, Gmail, YouTube, calendar, GTalk, bar code scanner, voice memo and predictive text input.
Huawei Ascend: The Ascend is better than the Intercept connectivity wise as it has a full range of CDMA frequencies (800, 1700, 2100, 1900), and a faster EVDO rev.A for high speed connectivity. Local connectivity is identical to the Intercept.
The processor is much slower when compared to the Intercept, at only 600 Mhz, so at least the Ascend has an excuse to be sluggish. The CPU is otherwise almost identical at 215 MB of RAM and a 512 MB ROM. However, external memory support is lower than the Intercept at only 16 GB memory card.
Picture quality is not as good as the Intercept, with blurring visible in artificial light conditions, there is also a white tinge to pictures. Video playback is also nowhere as good when compared against the Intercept, with the best resolution being 320×480, anything above that and problems start to snowball. Music is also a no go if you lose the earphones that come with the Ascend, as the loudspeaker is not particularly good and finding 2.5 mm earphones can be tricky. File support of audio and video formats is the same on both phones.
Even the list of miscellaneous items is the same with the only exception being the Ascend has a compass.
Winner: Samsung Intercept
Performance
Samsung Intercept: Calling on the Intercept is a pretty good experience, calls sound both natural and clear, perhaps a bit tinny but otherwise perfectly clear. Signals also tend to hold on very well in low coverage, but attempting to use it in a dead zone is taking it too far.
The browser experience is not as good as the calling experience, although it does support multi-touch, it lags and renders choppy images, and text re-flow is way too slow. So you are advised to use Opera Mini or Skyfire, Skyfire if you want to take full advantage of Android 2.2 and the multi-touch features.
The battery is rather weak considering it ships with Li-Ion 1500 mAh, it pulls off 6 hours of talk time and about a days worth of power on heavy usage, this is one power hungry phone. On average the phone manages a day of work on heavy usage and two on light usage.
Huawei Ascend: Call quality on the Ascend is the exact opposite of the intercept, calls are fuzzy, static filled and have a constant crackle throughout them. Did Huawei not realize the main purpose of a phone is to make phone calls? Apparently they didn't.
The browsing experience is decidedly better then the native browser on the Intercept, but utterly terrible if the Intercept is using Skyfire or Opera Mini. There is no multi-touch or even a hint of Flash anywhere, at all. Though using Skyfire evens out the experience somewhat, but the fact still remains, the Intercept's multi-touch capabilities render it the superior phone for browsing.
Battery life also takes a direct hit in comparison to the Intercept. The same Li-Ion 1500 mAh produces a maximum of 5 hours and runs out of power in about 8 hours of heavy usage, not at all acceptable in light of the Intercept.
Winner: Samsung Intercept
Verdict
Well the verdict here is pretty straightforward, obviously the Intercept is the better phone by quite a bit. But to be honest both phones are pretty badly off, the Intercept is just not as badly off as the Huawei, plus at least your callers don't sound like a bunch of screeching banshees on the Intercept.
So the clear winner of our bout today is the Samsung Intercept, however, the $99.99 price tag negates any good reason for you to purchase it, instead try the LG Ally, a similar, but better phone that also runs Android.
References
Bright Hub, www.brighthub.com
Phone Arena, www.phonearena.com
GSM Arena, www.gsmarena.com
Image credit: www.letstalk.com
Image credit: www.samsung.com
Image credit: www.amazon.com