Top Three iPhone Car Kits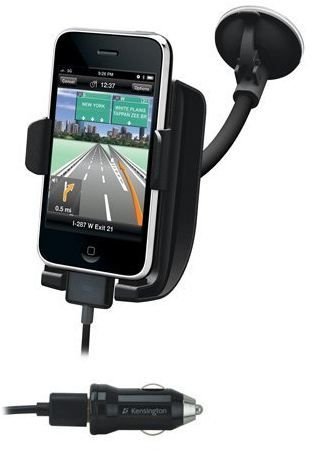 Kensington Mount with Sound Ampllifying Cradle and Car Charger
You know of course that using the GPS feature drains your iPhone's battery power, right? So, what could be a better iPhone car kit to use than something that charges your iPhone's battery at the same time? The Kensington Mount with Sound Amplifying Cradle and Car Charger lets you do that. This iPhone car kit secures your iPhone with a windshield and vent mounts. What's good about this iPhone car kit is the Sound Amplified Cradle that doubles the volume of your iPhone's speakerphone. The kit also comes with 4 sets of swappable rubber inserts that fit iPhone 2G/3G/3GS with or without a case. Other features of this iPhone car kit include - captures sound from the iPhone and directs it to amplifier, insert and remove your iPhone with one hand even when in a case, cable holder, and low profile USB car charger. (Price: $41.99)
Buy the Kensington Mount with Sound Ampllifying Cradle and Car Charger.
Magellan Premium Car Kit for iPhone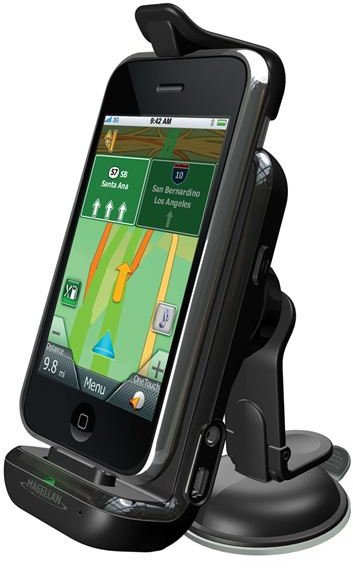 Here's a powerful iPhone car kit with a built-in receiver that boosts your iPhone's GPS reception to ensure accurate directions at all times. It's easy to use and mount as well. All you need to do is to simply place your iPhone into the cradle and connect the power. This cradle works well with most turn-by-turn routing apps including the Magellan Roadmate app for iPhone. It connects via Bluetooth in delivering a superior hands-free calling experience. It also delivers powerful, amplified and crystal clear calls and turn-by-turn directions. Other features of this iPhone car kit include - accommodates most iPhone cases or skins, works with most navigation or location-based apps for iPhone, automatically powers and charges when connected, noise-canceling, hands-free speakerphone, powerful, amplified speaker, secure adjustable vehicle mounting, and audio line out for music playback on your car stereo. (Price: $99.95)
Buy the Magellan Premium Car Kit for iPhone.
Navigon iPhone Car Kit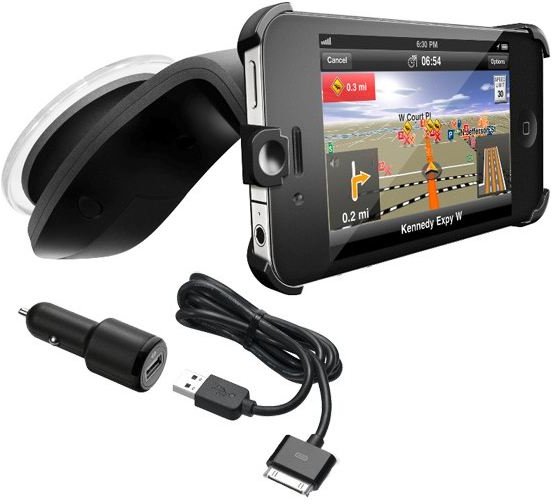 Fresh from its launch during the Macworld Expo last week, the Navigon design focused car kit for iPhone is composed of an iPhone car mounting device, a designer suction pad holder, and an Apple-certified connection cord and car charger which powers up your iPhone while you drive. The mount is easy to fix to the windshield, reduces driver distraction and positions your iPhone for optimal GPS signal. A nice feature of this iPhone car kit is its slim and "barely there" design which was engineered by German technology. In other words, this iPhone car mount kit lets you drive and navigate in style. It comes with a car charger and a five foot long connection cable that ensures your iPhone will never run out of power. This iPhone car kit is available for the iPhone 3G/S and iPhone 4. (Price: $44.99)
Buy the Navigon iPhone 4 Design Car Kit.