Best HTC Droid Eris Accessories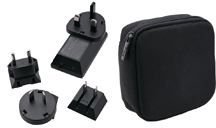 The Best HTC Droid Eris Accessories
The Droid Eris may seem like it contains everything you could possiblly want in a phone, from good looks to a choice of the best HTC Droid Eris apps, but to really round out your smartphone experience you'll need at least a few of these HTC Droid Eris accessories. From headsets to cases to cradles and everything in between, there is sure to be something for you on this list of accessories. The right HTC Droid accessories will keep your device charged on the go and keep it in place while in your car, you just have to find the right mix of accessories for your needs.
Universal International Travel Kit for HTC
When you take your HTC Droid Eris on a trip around the world, the most important accessory that you can bring is the International Travel Kit. The kit includes a dual-voltage (100-240v) adapter and four interchangeable plugs that will fit sockets in the U.S., mainland Europe, the U.K. and Australia. The kit also has an extra data cable, so you can connect your Droid Eris to your computer, and a convenient carrying pouch. This kit will work for the HTC Droid Eris as well as any other HTC device that uses a mini USB port for charging.
Purchase the Universal International Travel Kit here.
HTC Droid Eris USB Sync and Charge Cradle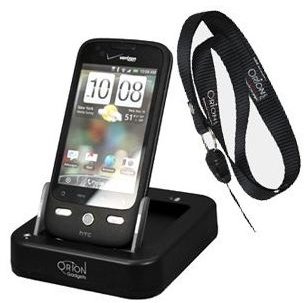 Connecting your HTC Droid Eris to your desktop computer can sometimes be a messy task, as you have to fish out your cable, connect it to your computer and then connect it to your Eris. Even after you get it connected, your Eris just lays on the table, difficult to see and manipulate. The HTC Droid Eris USB Sync and Charge Cradle solves all of these problems. Simply connect this cradle to your computer and set it on your desktop. The HTC Droid Eris slides right into place and is held up by an angled stand, letting you use the device with ease even while it is connect to your computer. The cradle also comes with an additional battery slot, so you can charge up a backup battery at the same time you are charging your Eris.
Purchase the HTC Droid Eris USB Sync and Charge Cradle here.
Seidio Innocase II Surface Case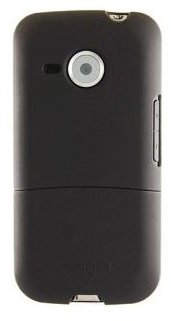 No list of HTC Droid Eris accessories would be complete without a way to keep your Eris smartphone free from dings, nicks and scratches that happen no matter how careful you are. The Seidio Innocase II is made from a hard, yet flexible, plastic that fits around your phone in two pieces. The case is made specifically for the HTC Droid Eris, so your ports and buttons are exposed in specifically placed cutouts. The innovative material that the case is made out of allows it to offer a layer of secure protection while being only 1 mm thick.
Purchase the Seidio Innocase II Surface Case here.
Arkon CM910 Vehicle Mount Kit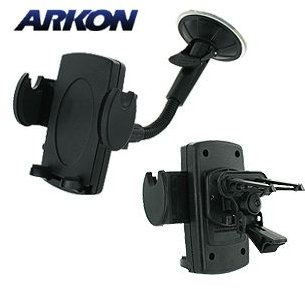 With all of the features packed into the Droid Eris you'll never want to be without it, even when you are driving. Use this adjustable vehicle mount kit to help keep you safe when you need access to your phone or your navigation program while behind the wheel. The adjustable sides keep the HTC Droid Eris in place, but also allow you to quickly remove it when you need to go. Since the sides are adjustable, you can even use the mount with other devices, making this one of the most versatile HTC Droid accessories around. The mount comes with three different mounting options, so you are sure to find a way to fit it onto any dashboard.
Purchase the Arkon CM910 Vehicle Mount here.
HTC Stereo Headset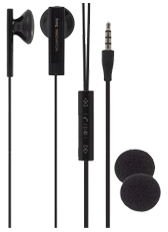 One interesting by-product of the preponderance of Bluetooth headsets available today is that the price of wired headsets keeps getting more reasonable. This HTC branded Stereo headset is perfect for listening to music or using the phone on the HTC Droid Eris. The headset plugs into the 3.5mm port on the Eris and it has a set of buttons on the wire to let you control the device. These may not stand up to some of the high-end headsets out there, but they provide excellent sound at a reasonable price.
Purchase the HTC Stereo Headset here.
TRANS4M Rapid AC/DC Travel Charger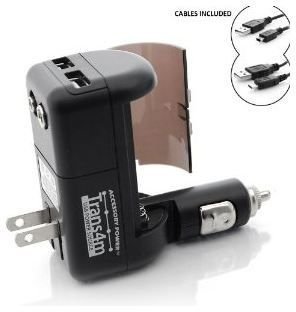 If you get tired of dragging multiple cables and connectors around, trying to keep your HTC Droid Eris powered up, this little device just might be the solution. The TRANS4M charger features an AC plug for a wall outlet, a DC plug for charging in a car and even slots for two AA batteries for charging when you're away from a power source. The TRANS4M has two USB charging ports, so while your HTC Droid Eris is charging, you can charge something else as well. Best of all the entire unit folds up into one small, portable package.
Purchase the TRANS4M Rapid Travel Charger here.
Seidio Innocell 3500 mAh Extended Battery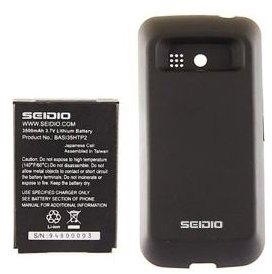 As the perfect answer to some of the more common HTC Eris battery problems, consider picking up an extended battery - one of the definite must-have HTC Droid accessories. The Seidio Innocell extended battery, will add 33% more talk time to your HTC Droid Eris, while only adding about 4 mm to the thickness of the device. The battery is made from high-quality Japanese cells and comes with a specially molded battery cover. You can use this as a replacement for your current battery, or carry both around to have more than double the amount of talk time.
Purchase the Seidio Innocell Extended Battery here.
HTC Droid accessories for the Eris are as verstaile as the phone is good-looking, and you are sure to find a solution here to take care of your phone, in the style to which it should be justly become accustomed to.