Review of the AccuRadio App for Palm WebOS
AccuRadio Usage (4 out of 5)
The AccuRadio application is easy to use and perfect for all ages and music lovers alike. From the traditional genres to the newest overseas up-and-comings it has a little something for everyone. The cool contrast of the screens purple background with yellow words also gives the app a unique and fun look.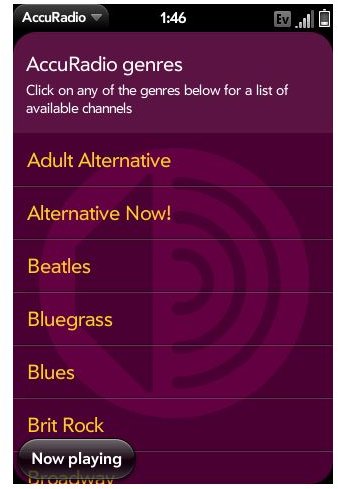 There are 44 different genres you can choose, from Adult Alternative and Bluegrass to Vintage Violence and World Music. Once you choose a genre, you get the option of which channel within that genre to listen to. The specific channels provide a short description of the music played to help you decide. For example, if you choose Bluegrass, you are offered 'Bluegrass,' 'Bluegrass Belles,' 'Bluegrass Boys,' and 'Hittin' the Road' as your specific channels to choose from. It is understandable that you will not love every artist within the channel you chose, the creators realize this and gave us the option to ban certain artists from playing during future broadcasts. With a simple touch of the screen you are in control of what artists you hear.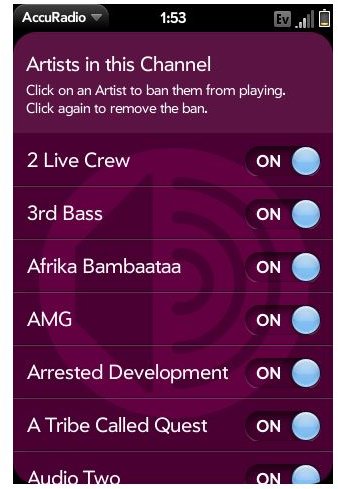 When listening to music, the album cover, song title, artist, album, composer and year are displayed. This is a great feature for people who can never remember what artist sings their favorite songs.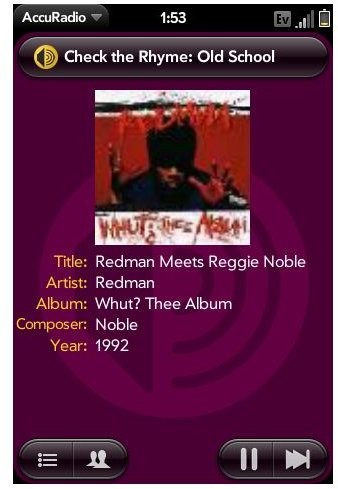 The only downside is that you need pretty good reception to get uninterrupted music. Certain areas where your bars are low will cause the application to skip and take a long time when changing songs. There are also short 'commercials' between every few songs. Most of them remind you that their music is provided by WebX and take only 5 seconds, but I have had a few real commercials and they take 5-30 seconds. You can hit the next button to skip them, but they are still annoying.
Conclusion
AccuRadio was designed with the music lover in mind. Since downloading this application and since I no longer need to bring Cd's to work, or search the radio while in the car. I love all the different genres and options of old school channels. This application truly is for all ages and will not disappoint, especially for the price of $0!
I would have given a higher rating if the application did not need nearly perfect data service to deliver uninterrupted music and had no commercials.