Introduction
Wristwatches. First they told the time, then they told the date, then they told us our direction. Now they will make video calls, send SMS and call for us! it seems the wristwatch has come full circle with the new LG GD910 wristwatch phone.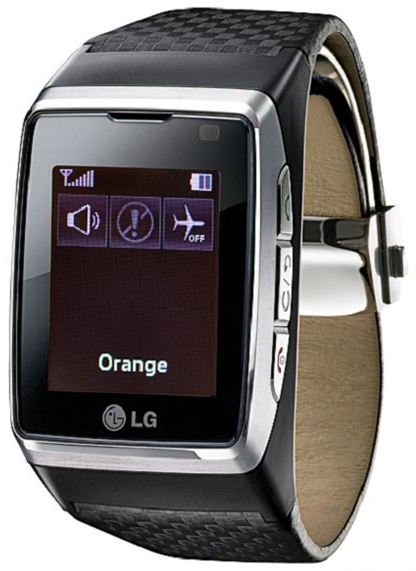 The LG GD910 is not a wristwatch, it is simply a small mobile phone using the format design of a wristwatch. As expected the design of this phone will cause some issues in usability and speed. But considering all the technology stuffed in a such a small device, perhaps we should give LG a break and just see the phone as a cute fashion gimmick for geeks.
Design (4 out of 5)
Well, this is the main point of contention for this phone. The design, can a wristwatch form really work for a phone? We're about to find out.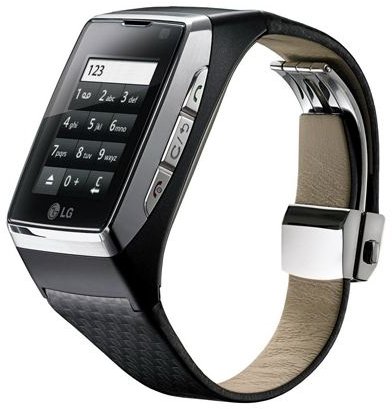 It has a thick wrist strap made from leather with a metal clasp to secure it to your wrist firmly, which it does perfectly well. It is a rather clunky device as it weighs 84.0g (about 3oz) and has dimensions of 49 x 39 x 13.8 mm (about 2 x 1.5 x 0.5 inches), so it is not very thin either. Then we have on the underside of the phone a steel cover which has to be turned to unlock the hatch. Inside we find the only the SIM card slot, nothing else.
Now for the screen. It is a 1.43 inch Gorilla Glass capacitive touchscreen with a 128 x 160 pixel resolution and 256k color support. Despite the rather powerful screen specs this is a terrible phone to view photos or any image on. The sunlight legibility is excellent though, just like a real wristwatch. The only other thing to notice on the front is the VGA camera, used for making video calls and taking snapshots
The right side is where the controls are located, three buttons that perform various function depending on which menu or phone function is currently being used. But these are the basic functions they perform; the call key can double as a menu button or volume screen raiser, the end/back key performs only that function. While the end call key is limited to simply ending a call.
The phone is charged by seating it inside a charging station which is then connected to an LG charger.
User Interface (2 out of 5)
The basic question is… have they been able to make an easy, comfortable and efficient UI for this phone? The answer is no. But you can't really blame them, it is a very small space crammed with too much technology. Just like previously specialized UI's by LG, the UI for GD910 is Flash based, and it is bare basic in nature.
The main menu opens up to only four icons (Contacts, Messages, Utilities and Settings) arranged in a 4×8 grid format. If you scroll diagonally through the phone's main screen then the number of clock screens are presented, with the option to show two different time zones available. Scrolling horizontally through the main screen presents you with several option screens, including profile settings (silent or normal), flight mode and battery checker, also the main menu is reached through side scrolling. As is the music player and all other options.
Typing a message or dialing a number is an absolute nightmare on this phone, especially for people with larger fingers. Your best bet is to use the voice command feature which works smoothly to dial numbers, as for SMS, might as well avoid sending any. The interface is colorful enough and works well, several options are provided for tweaking the phone settings to your personal satisfaction so all in all it is well balanced UI. The only major drawback is trying to type something on it.
Features (5 out of 5)
The LG GD 910 has a set of rather amazing features considering what it is. It comes with a full set of 2G GSM network frequencies (850 / 900 / 1800 / 1900) and a single 3G HSDPA frequency of 2100. Other connection options include Bluetooth v2.0 with AD2P support which comes in very handy since this phone comes with a Bluetooth enabled earpiece, an absolute essential for making or receiving calls on the GD910.
Internal memory is capped at 2GB, no options exist to add any more memory. So be careful as to how you utilize your memory.
The ace up this phone's sleeve is its IPX4 certificate, meaning the phone is water resistant! It also has text to speech recognition abilities, a life saver as trying to type text into to this phone a hellish experience. It also has voice recognition which is another life line, and once it is paired with its headset the commands are recognized without trouble. It also has a music player with some nice graphics that add some eye candy to the whole experience.
The VGA camera has a maximum resolution of 640×480 pixels, this phone's camera is designed primarily to snap contact photos, nothing else. It should be noted that this phone has no video player or web browser, but it has 3G for video calling. Seems like a complete waste since very few people video call.
Performance (2 out of 5)
The phone performs relatively well when it comes to screen sensitivity, everything comes and goes smoothly when flicked or touched. However, that is as far as the good news goes performance wise, this phone comes with a Bluetooth headset, but not as an accessory, it comes as a necessity. The voice quality and volume of this phone is absolutely terrible, calls are crackled and sharp, the music is muffled and the loud speaker volume is very low. The voice recognition is faulty and lacks precision. Fortunately all these sound issues are solved amicably by the wireless headset. It makes all the sounds precise and clear, keeps the volume relatively high during calls, and clears up the muffled sound from the music player.
Verdict (1 out of 5)
In the end the LG GD910 is simply a gimmick, a very expensive gimmick at that since it is retailing with Orange at the list price of $900. It is a very well packed phone that delivers poorly on its promise, some feature have no real use, such as the 3G but are there nonetheless taking up space and making it bulkier than need be.
It functions well enough when being touched, but the call quality is terrible and the phone relies very heavily on its wireless headset to function effectively.
The phone's capabilities are limited severely by its form factor, which would be fine if it was being touted as a technical exercise or was being sold at a much lower price. But neither is being done by LG. In the end this is a failed experiment. The functionality combined with its unbelievably high price make the LG watch phone unattractive.
.
Images
References