Introducing the LG Incite
In this LG Incite review, we see what this smartphone has to offer. It looks like a phone that professionals would prefer thanks to its elegant shiny design and its set of productivity tools. However, it also provides above average multimedia features.
Design (3 out of 5)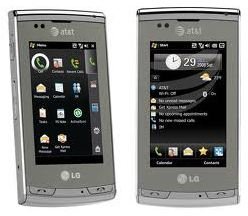 Weighing in at 120 grams and measuring 107 by 56 by 14 millimeters, the LG Incite may be a little bulky for people who always want to keep their mobile device in their pockets. This bulky design, however, still fits comfortably in most people's hands, so carrying it around in hand is a comfortable experience. The different control buttons and ports line its sides, providing easy access for the user. The problem with its design comes with its screen, which measures 3 inches. Being a touchscreen device with a full on-screen QWERTY keyboard, there may not be enough room to make typing comfortable for some people. Reading text may also pose a problem for people who are used to larger screen sizes on other types of smartphones. Its overall look and feel says it is definitely geared towards business-minded people. Its reflective and shiny look makes it one of the most elegant smartphones out there.
User Interface (3 out of 5)
Its user interface is not groundbreaking, but it is clean enough to provide efficient navigation for the user. The LG Incite runs the Windows Mobile 6.1 operating system which is quite dated. Each selection on the screen produces a vibration reaction, which provides useful feedback. Switching from landscape mode to portrait mode is a problem area because the LG Incite does not respond fast enough during the switch. Performance aside, the user interface is intuitive and provides a pleasant navigation experience for the user, whether they are using their fingers or the included stylus. The ability to customize the home screen also gives the user a more comfortable and personal touch in using their smartphone.
Features (4 out of 5)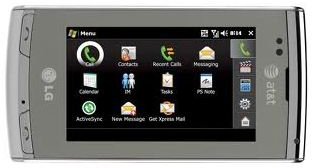 The LG Incite does not offer anything new in the multimedia department. It provides the usual multimedia playback via the built-in Windows Media Player. Although it offers good sound and video quality, it doesn't have anything new and exciting to offer to people who love to live on the cutting edge. For people who just want simple and quality multimedia playback, the Incite will do.
Its camera can take still images and videos with the ability to save video in 5 kinds of formats: 3GP, MP4, WMV, ACC and H.263. Images taken by the camera are placed in the photo gallery where users can choose to view the images in a slideshow. Basic image editing tools like crop, rotate and zoom are included in the photo gallery. Compared with other smartphones, the Incite provides great photo and video quality, thanks to it being a 3.0 megapixel camera.
With a more or less basic set of multimedia features, it is clear that the LG Incite is not the best choice for a smartphone for people looking to get more pleasure from their mobile devices. However, the Incite has a set of features that can help increase productivity. These features include email management, file management and sync, Mobile Banking and Microsoft Office. Task management tools and other basic productivity features like calculator, calendar and address book give the Incite a complete suite of productivity tools. This means that people who will be using this phone for business will not be disappointed.
With Wi-Fi, HSDPA and 3G connectivity, it is easy to find an Internet connection anywhere. This means web browsing is easy, although as stated earlier, viewing the web pages may not be the most comfortable experience ever because of the Incite's small screen. If viewing the screen does not pose a problem for you, then you are assured to have a pleasant web browsing experience, as well as navigation via GPS if you choose to install a GPS application. And speaking of applications, if the features of the Incite do not suit your needs, especially for entertainment, you can easily improve the situation by downloading LG Incite games and installing third party applications.
Performance (3 out of 5)
The LG Incite only has 70MB of internal memory, so if you are planning on using it for multimedia playback, you will have to purchase additional storage via microSD memory cards. Its battery can last up to 20 days in idle mode or around 6 and a half hours when it is in constant use. That is a lot of battery life, which is one of the Incite's strengths. Being a business-focused smartphone, having a great battery performance makes it one of the best business communication tools out there. However, a sometimes sluggish performance may turn off some people who want a fast and higly responsive mobile device.
Verdict (3 out of 5)
With a shiny design and a plethora of productivty tools, the LG Incite is definitely aimed for people who are all about business. Its multimedia features may not be the best out there, but it is good enough to provide quality entertainment and photo and video capturing capabilities. It gets an average rating.