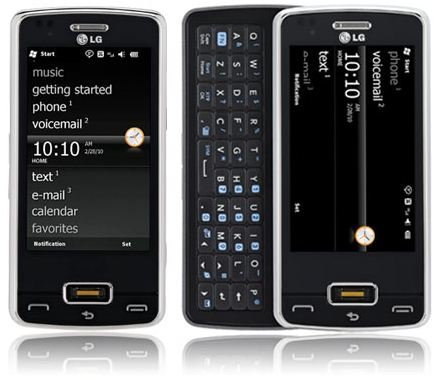 The LG Expo GW820 a.k.a. LG Projector Phone
This phone is produced by LG who are turning out to be one of the major players in the smartphone market today. You can expect good build quality, great support and a lot of features from this manufacturer. The LG Expo GW820 has one feature that distinguishes it from all other cell phones; it has a mountable LG Pico projector. Yes that's right, this cell phone can project pictures, videos and even its user interface on to a wall or any kind of surface. You can't expect great picture quality from such a small projector, but when you realize that you can take it with you and carry it in your pocket then you can forgive the poor picture quality. Connecting the LG Pico projector to your LG cell phone and projecting the content onto a wall is ideal when you have something interesting to show to your friends or a presentation for business associates.
Design (5 out of 5)
This is a big phone with dimensions of 114x56x15 mm (4.45x2.24x0.65 inches) and also an impressive weight of 147.4 g (5.3 ounces). But the size and weight are justified by the full QWERTY sliding keyboard. It features a simple and clean design which can only be found in one color - black. It has a big 3.2 inch TFT resistive touchscreen which supports 16M colors and a resolution of 480x800 pixels. The optional projector weighs an additional 1.8 ounces and is capable of projecting up to a 40 inch screen size onto any surface.
User Interface (3 out of 5)
The LG Projector phone runs the Windows Mobile 6.5 Professional OS. This is a great but somewhat outdated platform since the Windows Phone 7 OS is now available. The user experience is good and there are a lot of options and features; you can download and install applications and tune the phone according to your needs. The user experience is a bit ruined by the old Windows 6.5 OS which is not as user friendly as Windows Phone 7.
Read on to find out what kind of features this LG Projector phone has to offer.
LG Projector Phone
Discover more about the full potential of the LG Projector phone as we look at all of the features and capabilities of the LG GW820 Expo. There is one key unique selling point that makes this cell phone special and different from all the others. It has a mountable LG Pico projector that enables you to show pictures or video on the wall just like a small pocket projector.
Features of the LG Projector Phone (5 out of 5)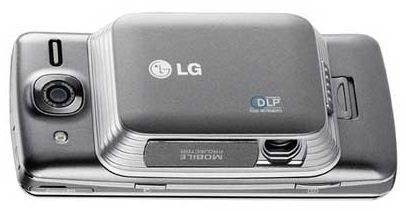 The LG GW820 Expo has a lot of great features. It has a Qualcomm Snapdragon QSD8250 1 GHz processor with 512 ROM and 256 RAM. The connectivity options on this phone are: Wi-Fi 802.11b/g, v2.1 Bluetooth with A2DP, v2.0 microUSB, 3G HSDPA 7.2 Mbps, Class 10 EDGE, Class 10 GRRS and GPS with A-GPS support. It features a 5 MP primary camera with 2592x1944 pixels, autofocus and LED flash and a secondary camera. It also has an accelerometer sensor for auto-rotate and Smart Sensor fingerprint recognition support. From a software point of view it has WAP 2.0/xHTML, HTML Browser, MP3/WAV/WMA/eAAC+ audio player, MP4/WMV/H.264/H.263 video player and Pocket Office (Word, Excel, PowerPoint, OneNote, PDF viewer).
Performance rating of the LG GW820 Expo (3 out of 5)
This LG cell phone has a powerful Qualcomm Snapdragon QSD8250 1 GHz processor that makes the phone fast to start up and also helps with moving through the menu at great speed without lag. The powerful processor also helps with running applications but a big disadvantage is the old Windows 6.5 OS. The phone battery is Li-Po 1500 mAh and a full charge is good for up to 408 hours of stand-by and up to 4 hours of talk time.
The Verdict (3 out of 5)
This is a great phone. It has all of the right hardware and features. But its design is a year old and the old Windows 6.5 OS is ruining the overall impression of this phone. The mountable LG Pico projector is a great feature but the picture quality is average. Overall a great but outdated phone.