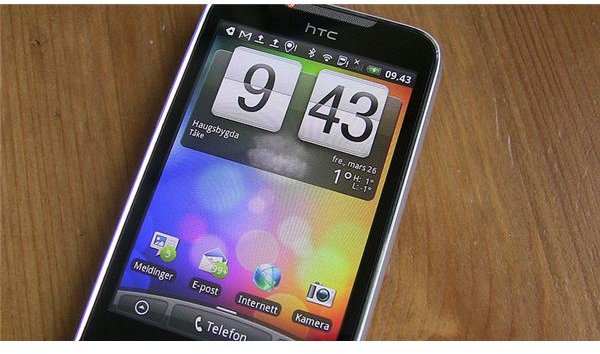 Android 2.3 Gingerbread has been out for quite some time now. Many smartphones have been getting unofficial ROM updates for Android 2.3, including the Samsung Galaxy S, HTC Desire, Motorola Droid X etc.
The HTC Legend was one of the best Android smartphones when it was launched, but compared to the latest breed of Android smartphones, it is relatively underpowered and outdated. However, it still packs in enough power to run the latest version of Android – Android 2.3 Gingerbread. While HTC may have abandoned it, it has many fans in the Android hacker community.
Some of these hackers at XDA have been working on an Android 2.3 Gingerbread ROM for the HTC Legend. Cyanogen, the most famous of them, has also been working on it for some time. He will be launching an Android 2.3 ROM for the HTC Legend soon, but we already have an experimental build of Android 2.3 Gingerbread (Cyanogen Mod 7) for the HTC Legend. It is much better than other options and includes the Google apps for Android. The only issue it has currently is related to 3D graphics.
In this tutorial, I will show you how you can install Android 2.3 Gingerbread on your HTC Legend, in other words, upgrade your HTC Legend to Android 2.3 Gingerbread.
How to Install Android 2.3 Gingerbread on HTC Legend
1. First of all, you need to download an Android 2.3 Gingerbread ROM for the HTC Legend. Though it's still experimental and has a few bugs, the Cyanogen Mod 7 ROM (Android 2.3 for HTC Legend) is probably your best option.
Download the Android 2.3 Gingerbread ROM for HTC Legend here.
2. Copy the ROM to the root of your SD card and insert it into your device. You can do it by either connecting your phone to your PC or by using a card reader.
3. Now, you need to get ROM Manager. It's an excellent app which allows you to install, back up and restore ROMs easily. You need root access to your HTC Legend to use it, so make sure that your phone is rooted.
Go to the Android Market and search for ROM Manager. Download the ClockworkMod ROM Manager and install it.
4. Open the ROM Manager app and select the Flash Clockwork Mod Recovery option to install the recovery ROM and then select the Backup Current ROM option to backup your current ROM in case you want to revert back to it.
5. Now go back to the main menu of ROM Manager and click on Install ROM from SD Card. Select the ROM you downloaded on the SD Card and install it. Make sure you wipe data and cache before installing.
Android 2.3 Gingerbread ROM Source: XDA
If you have any issues with the ROM, post a comment here or on the XDA thread.
Note: You need a rooted HTC Legend to flash ROMs.
References