Overall Use (4 out of 5)
Comeks Fun Photo Blogger is a simple to use application, so much so that instructions are not necessary. Upon launching the application I took a standard picture I already had on my phone and opened it using Comeks. Once launched that picture appeared on the main part of my HTC Hero's display. Underneath the photo was a set of brightly colored and large icons (finger friendly) which I could choose for the purpose of editing my photos.
The available icons include: "Background" which I used to choose my photo, followed by "Add Sticker" which is used to add goofy mustaches, glasses and other "peripheral" objects to the picture on the screen, "Text" which is setup in a bubble just like you'll find in the daily comics of your local newspaper and a "share" option which I'll explain in a moment.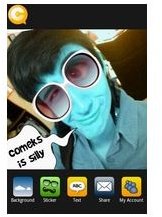 As you can see it's easy using the available options to sku the image on the screen, change coloring for your picture and backgrounds and even add those "word bubbles" I was just talking about. The interface is finger friendly and each function can be performed with only a few quick steps. It's not going to provide professional quality photo edits, but it's great for goofy photo options.
The "share" button I mentioned earlier is where this program really shine, whether you want to edit your photo or just pass a photo on to your online account this program makes it really simple. The choices include: comeks.com, facebook, twitter, flickr, tumblr and bebo all of which will auto post your photos based on the login information you entered in the accounts screen. I tested the program with Twitter and Facebook and my photos posted in a matter of seconds at lower quality picture uploads.
The program also allows users to use the "Share" button to save their newly edited photos directly to their SD cards for safe storing and access at a later time from their device or from another gadget with SD card capabilities.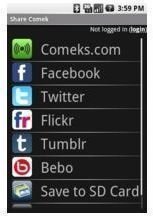 The program itself offers just quick photo editing to make your photos a little bit goofy or just plain odd, however the instant photo sharing options is where this program shines thanks to a simple access screen.
Conclusion
Oddly enough while the program calls it's a "Blogger" application, it sorely lacked access to WordPress, Blogger and other blogging platforms. Perhaps "micro-blogger" would have been a more apt name.
With that being said I found the program to be amusing and simple to use. It doesn't offer major editing options and the editing it does offer is rather rudimentary, however with that being said It's still great for quick goofy edited or for just sharing your non-edited photos with popular social networking sites.
Comeks Fun Photo Blogger is a free download from the Android Market and it's definitely worth a look if you just want to have some goofy fun.