My Maps Editor by Google makes creating easy to follow information maps using the Google Maps software easier than ever. The premise behind the program is simple, users create "markers" for areas on a satellite image for other users to follow. When I think of these maps I think of College campuses in which each building is labeled for new students on a map with other important landmarks also placed on the map for users to find.
Here's a look at the My Maps Editor using Google Maps with several already placed markers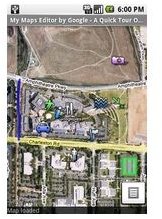 To add at least some personalization users chose which markers are used to mark each area, while photos can also be added to show a photo of the area in question (marked with the purple camera in the picture above. SInce users choose the markers and where to add photos only the most important areas on a map are highlighted.
Once all of a users markers have been laid down they can then share their Google Map creation with other users by simply sending them there map. Along with that map comes the "Map Legend" which shows users what each symbol means. Google Market place has a good screenshot representation of the markets in the above pic, here it is: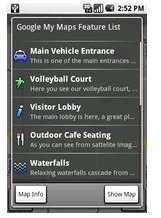 Finally users can also choose to leave notes about each area within the market for easy access by map users. For instance you may want to attach a message to the visitor lobby stating that it doesn't open until 8AM or leave information about parking costs at the main vehicle entrance market. Since you add the messages the maps become even more personalized than they would be with your standard Google layout.
My personal favorite part of My Editor By Google is the simple fact that the grid layout used to set markets is very easy to follow, just place the markers over the area you choose and you're ready to go. You can even place a marker of your current location at the time you create the location markers and attach a photo of your current area if you choose to do so, whatever you decide it's all so easy to use that no directions are required thanks to the excellent intuitive design.
Conclusion
Why spend hours creating maps via a computer program that users will then have to print out with extensive notes for important meeting places, times they open, parking costs, or whatever other information they'll need when you can simply use your Google Android device to create a map of locations and specifics about those locations.