Overview
Each time I make a call, I have to stick up my BlackBerry on my ear and wait until the call gets connected. If I am not using a Bluetooth headset, there is no rest for my hands, and I sometimes wonder if there is an application that could notify me immediately when the call gets connected without putting the phone to my ear all the time. Also, my phone keeps me pretty busy and sometimes it becomes really difficult to manually cope with and manage after-call calendar entries, appointments, and contact management. This is where BBAssistant comes into picture. It is an effective personal assistant that can take care of all these problems by simplifying the way I handle my communication.
BBAssistant is an effective productivity tool that notifies you by producing vibration alerts whenever your call gets connected. It also produces a sound alert whenever your call has been disconnected from the other side. Not only this, it offers powerful contact and calendar management by producing calendar entry prompts after you have finished your conversation. The 'add to exist address' feature allows you to easily add any number from your call log or message log to your phone's address book.
Installation and Main Features
Installation is easy and opening the application guided me to its options menu where I was able to customize the settings according to my requirements.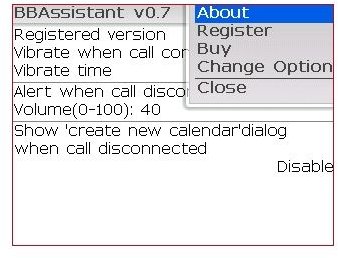 The first option allowed me to disable or enable the 'vibrate when call connected' feature and set the time lag between vibrations (the application allows you to set this time anywhere between 0.5 to 2 ms). The second option allowed me to enable or disable the sound alert after the call has been disconnected. You can adjust the sound volume ranging from 0 to 100 according to your needs.
The third option allowed me to enable or disable the 'create new calendar' prompt that appears every time you disconnect a call. After setting up the application, I decided to have a little test and called one of my friends. When the call was connected, I was notified by a vibration alert, and this saved me from holding the phone to my ear all the time. After I have completed the conversation, my friend disconnected the call, and I could hear a sound alert notifying me that the call had been disconnected. This was something new for me and surprisingly very convenient, too.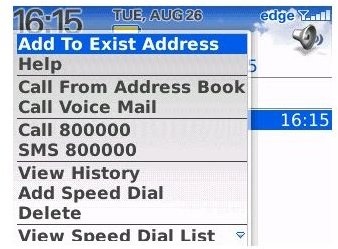 Also, every time I disconnected a call, I was prompted by an alert that asked me whether I wanted to create a new calendar entry regarding that call. I noticed a new option in the options menu of call and message log called as 'add to exist address' that allowed me to add that number to a contact that already existed in my address book. Here I faced a slight problem because, while using this feature, my Blackberry jammed a few times, and I had to restart it to get back to normal operation. Otherwise, every feature is easy to use, and you can customize the application in any way you want so that you can simplify your call management and calendar entries.
Finally, you can buy and install this application from the official website of Handrapid for just $10. You can also download the trial version by clicking on this link fo BBAssistant. This application is compatible with all Blackberry models having operating system 4.2 or higher.
Final Verdict
BBAssistant is certainly a very useful productivity tool that makes things a lot easier for you. Using the application is easy and it almost does what it is designed to do. However, it does have some minor issues, and, when I was testing the application, my system did freeze a few times while using the 'add to exist address' feature. I will advise my readers to download and test the trial version before buying the final product.
SOURCE: Handrapid