What is Browsershots.org?
Browsershots.org is an open-source web project. The purpose of the project is to provide a resource for web designers, to give them the ability to observe their website creations in every browser, and ensure that their designs look as they are intended for all viewers. The functionality for choosing which browsers to view your site in is very robust, allowing the viewer to choose the resolution and color depth of the browser, the operating system, and whether Java, Javascript, and Flash are enabled.
Additionally, there are over 70 browsers to choose from, including multiple versions of the most popular browsers. Really, this site has every option which a designer would want, in choosing just the right browser environment to observe their website within.
Images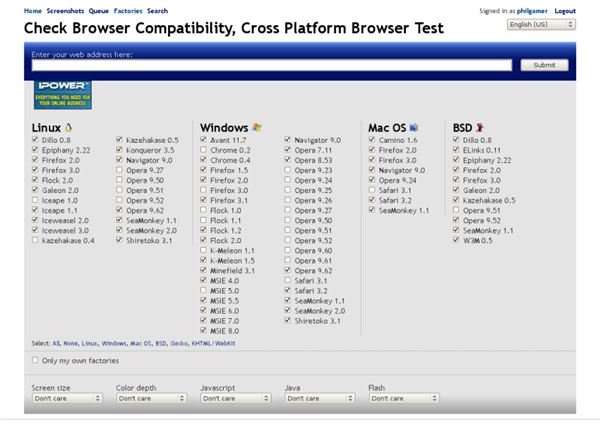 Browser Images (5 out of 5)
Browsershots.org does a really terrific job of providing quality images from any browser that you'd like to see for your website. The images usually contain the entire webpage, whether it fits into a single screen or not – the images can be as much as 3000 pixels long, so you're able to get an idea of how your whole page looks in any of the different browsers.
The choice of browsers seems to be comprehensive. The site allows you to choose from browsers on Windows, Macintosh, and Linux computers, and every browser seems to be included.
Only about 10% or so of the images end up being duds, resulting from incomplete page loads or glitches on the host computers. For a free service, this really is a great ratio of quality images, especially considering all of the work which would be needed if Browsershots' service were not available.
Free Service (3 out of 5)
For a few different reasons, I think that it's fair to say that the free service on Browsershots.org is good for smaller jobs, but for larger jobs the free service has some true drawbacks. However, if you have a single webpage, and you only need to see how it looks in five browsers, then you are likely to be fully satisfied by the results of the free service.
When working on big jobs, some issues come up which show the free service to be less worthwhile. As an unregistered user, you are only allowed about 100 shots in a 24-hour period. If you need to see how your site looks in 25 different browsers, and you need to view three different pages, those 100 images get used up in a very short amount of time. Oftentimes you will find that you need to make small changes to your HTML or CSS. Once the changes are made, you need new shots to make sure that the changes work in all browsers. Soon, you've hit the limit, and you're stuck, unable to get more shots to continue working.
The good news is that you can register with the site, and get about 200 shots per day. But even this limit is easily reachable in 2-3 hours, if you are focusing intensively on improving a site's browser compatibility.
Another possible issue with the free service is the amount of time that it sometimes takes to get your shots. There can be times where the site takes as much as 45 minutes to send you your shots, which for many people is too long to be worthwhile.
Overall, the free service is very robust, providing a chance to see your site in any browser whatsoever. It's a great way to test out the service and see how it works, and it does work really, really well. However, in the long run it may be worthwhile to sign up for the paying service at Browsershots, Priority Processing.
Priority Processing
In the long run if you plan to use Browsershots to complement your web designing ventures, you're probably going to need to sign up for the priority processing service. With this service, for $30/month you can get as many screenshots as you want in a single day, and your screenshot requests are given priority over the free requests, resulting in shorter wait times.
If you're considering paying for Browsershots, then it is worthwhile to check around for Browsershots alternatives. Netrenderer and Browsercam are two alternatives, but Netrenderer only features IE browsers, and Browsercam is a much more expensive service. Browsershots really does give you the most robust service at the lowest cost, compared to the alternatives. You can try it free and see if it works for you, and the free service may be sufficient for designers who are not regularly creating new templates or regularly updating a web site's layout and structure.
Final Assessment
All and all, Browsershots can be a great asset, giving designers an easy way to see how their site looks in every browser in a short amount of time. The paying service is also surprisingly inexpensive, compared to the alternatives. Browsershots is a highly recommendable tool to add to your web design arsenal, and it really can give you peace of mind that your site looks great in every browser. Two thumbs up!