About Expression Web
Microsoft Expression Web is a web page design tool by Microsoft. Expression web supports development using HTML, XHTML, CSS, PHP, JavaScript, and more. Microsoft Expression Web is a WYSIWYG-based web page designer that also allows direct editing of code. In addition to the toolset provided in the standard Expression Web installation, third-party developers can offer add-ons to expand the functionality.
Microsoft Expression Web version 4 was released on June 7, 2010. A free trial of Expression Web is available on the Microsoft Expression Web website.
This tutorial on how to put audio files on a web page with Expression Web uses Microsoft Expression Web 4, the latest version. However, these instructions may be a good starting point for users who are using an earlier version of the software.
Inserting Audio Files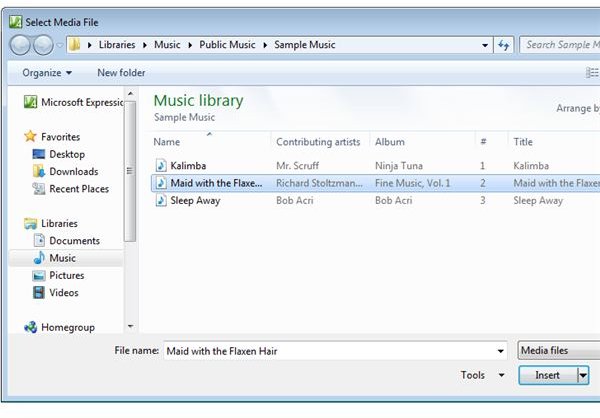 Inserting audio files on your web page with Expression Web is relatively simple. First, open the web page that you wish to insert audio files into, or start a new web page. Select the area on the web page where you would like to embed the audio file. Since the audio file will embed itself as an interactive media control by default, selecting an appropriate location is important.
In the menu bar at the top of the Expression Web window, click on Insert, Media, Windows Media Player. This will open the media selection window. Navigate to the folder where your audio file is located. If you do not see the file listed, change the file type (next to the file name field) to "Media files." Now, select the audio file and click the Insert button.
This will insert your audio file as a control on the location you selected. The audio file is essentially an embedded Windows Media Player control. Users in supported browsers should be able to play the audio file in a way similar to playing an audio file in Windows Media Player.
Changing the Control Layout
In some cases, you will want the control that holds the audio file to display differently. By default, Microsoft Expression Web embeds the audio file in a control, with a seek bar, play button, pause button, and other audio controls. To change the control's layout, right click on the audio file control and select "ActiveX Control Properties." From here, you can change the audio control's source, its layout, and many other settings.
To change the layout, pick an option next in the "Select a mode" drop-down box. A description of each mode is provided under the drop-down box when selected. To save your selection, simply click the OK button. Ensure that the control layout is what you wanted by checking it in the Microsoft Expression Web design panel.