Introduction
If you want to provide visitors of your website an option to view the content in different languages, you have (at least) two solutions; the first solution is an expensive one, but can yield far better (in the terms of quality) results – naturally, this solution implies hiring a qualified translator(s) who will translate your posts/pages/comments into another language(s). Since you would have to pay for their services regularly, it is obvious why most bloggers can't afford this solution. On the other hand, you have several free solutions, such as the ones described within this article. Although these solutions are much faster and free, you must be aware of the fact that Google Translation Service (all the plugins in this article are based on this service) is (still) far from being a perfect translation machine, although it is constantly upgraded with better algorithms.
Global Translator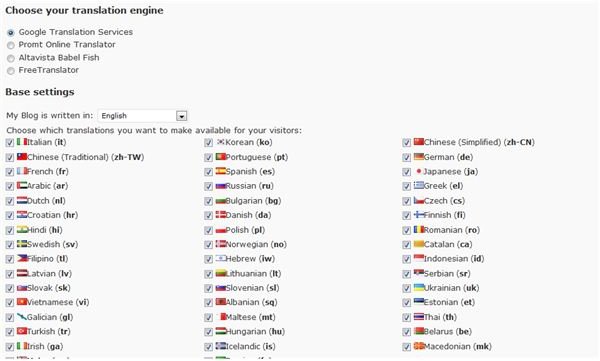 According to number of downloads (more than 435.000 as of this writing), Global Translator is the most popular WordPress page translate plugin. This plugin currently supports 48 different languages, although the number of available translations depends on the blog language and the selected translation engine (you can choose between Google Translation Services, Prompt Online Translator, Altavista Babel Fish and FreeTranslator). Furthermore, Global Translator is SEO optimized, it adds the language code at the beginning of the page URL (e.g. www.example.com/about is transformed into www.example.com/en/about), it does not create or alter tables within WordPress database, you can choose either TABLE or DIV layout for the flags bar, and you can select which translations (languages) will be available to your visitors.
You can download Global Translator here: https://wordpress.org/extend/plugins/global-translator/.
Google Ajax Translation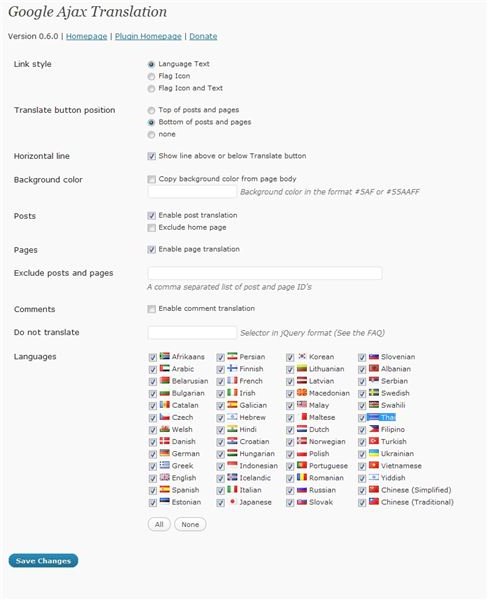 The name of this plugin suggests two things: first, is tells us that it is based on a popular Google Translation Service and second, that is uses AJAX technology. Google AJAX Translation allows blog owners to implement translation of blog posts, pages, or comments into 52 different languages. So how does it work? After you have installed and activated the plugin, the Translate button will show up at the bottom or the top (depending on which option you set in the plugin settings) of posts/pages/comments. Furthermore, you can choose whether you want to display languages only as a text, as flags or as flag icons and text. Naturally, you can also choose which languages the translate button will show.
You can download Google Ajax Translation here: https://wordpress.org/extend/plugins/google-ajax-translation/.
GTranslate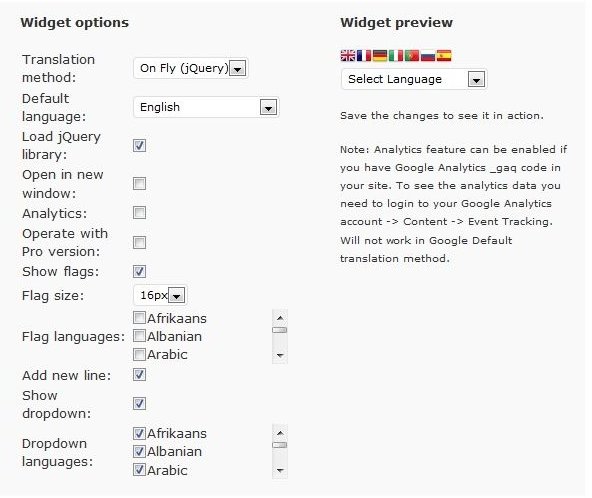 GTranslate is another very popular (more than 400.000 download as of this writing) WordPress page translate plugin based on popular Google Translation Service. In addition to 58 available languages, this plugin hides both "Suggest better translation" pop-up and Google top frame after translation, it has a mouse over effect, translated page can be opened in a new window, it has a valid XHTML, while it also supports several styles.
Additionally, there is also a paid version of the plugin, simply called GTranslate Pro. This version costs €59, and in comparison with its free version, it enables search engine indexing, search engine friendly URLs, cache support with ability to edit translations, meta keywords and meta description translation, and it has a full support for non-Joomla websites.
You can download a free version of GTranslate here: https://wordpress.org/extend/plugins/gtranslate/, while the paid version is available here: https://edo.webmaster.am/gtraanslate.
References and screenshots: https://wordpress.org/extend/plugins