Why Install Drupal on a PC?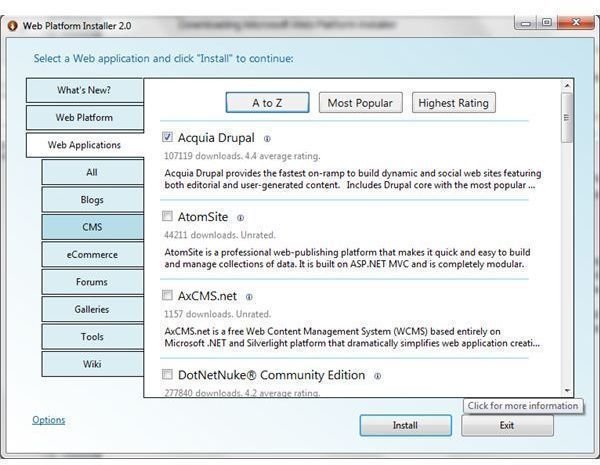 Installing the Drupal open source content management system locally can save you a lot of bother in the design and development stages of a new website based on this web application.
Rather than install the CMS to a remote server, a dedicated local server or even scramble around with a tricky manual install you can gain an advantage in FTP-based delays by installing this PHP website software on your PC using Microsoft Web PI.
This free tool from Microsoft installs all of the tools required to run a PHP website and the MySQL background database. Using Microsoft Web Platform Installer is quick and easy and you should have Drupal running on your PC in minutes.
Downloading Microsoft Web Platform Installer
To take advantage of this remarkable tool, you will need to download Microsoft Web PI. Visit www.microsoft.com/web/downloads/platform.aspx and click on the Download It Now link to begin the download of the installer.
The installer is a relatively small program, around 640Kb and is suitable for Windows 7, Windows Vista, Windows Vista SP1, Windows XP SP2+ desktop operating systems and Windows Server 2003 SP1+, Windows Server 2008, Windows Server 2008 R2 server operating systems.
Once downloaded, run wpilauncher.exe to begin the installer; a list of options will be displayed which you will need to configure correctly in order to install Drupal. (Note that User Access Control will ask you to confirm the launch of the program in Windows Vista and 7.)
Configuring Microsoft Web PI to Install Drupal on Your PC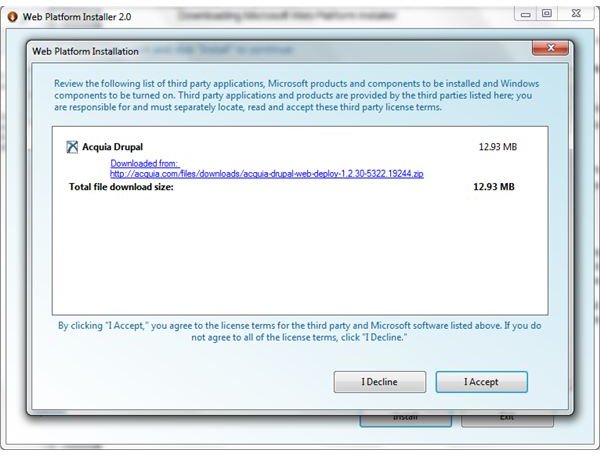 You will now need to configure the installer to find and download the components you require for installing Drupal on your PC. No specialist knowledge is required here – all you need to do is find Drupal in the list and the installer will install all required additional PHP and MySQL software.
With Microsoft Web PI running, go to the Web Applications menu and select the CMS tab. Top of the list you will find Acquia Drupal, the popular build of the Drupal content management system designed for use public websites and private intranets.
Tick the box next to Acquia Drupal and click Install. You will be asked to confirm the download, which will include the Drupal software, PHP and MySQL software and any additional framework components needed to run the web application on your PC. Click I Accept to proceed, and the Web Platform Installer will begin to download the application and associated software.
Configuring the Drupal Installation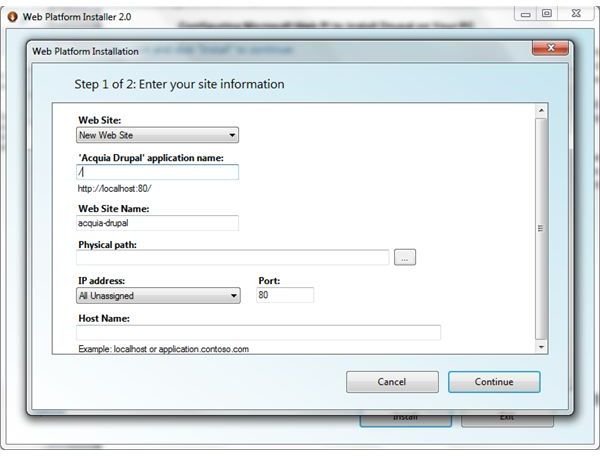 Soon you should see a form that needs completing in order for Acquia Drupal to be installed. Here you will need to select whether you want it to be the Default Website on your PC (in which case you can click Continue) or if you want to specify a new location select New Web Site and give the application a name.
In the following screen you will need to specify a username and password for the MySQL database that the Acquia Drupal installation will use – and then sit back and wait for your web application to install.
Once installation is complete Microsoft Web Platform Installer will launch the new web app in your browser.