Keep Others From Seeing Your Screen with Computer Monitor Privacy Screens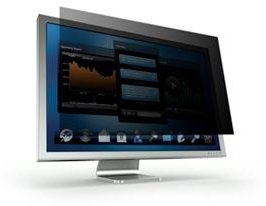 Screen Privacy
Have you ever been to a doctor's office and tried looking at clerk's computer screen behind the counter? From your angle, the screen may have appeared to be very blurry or even solid black. If so, it's because they were using a computer monitor privacy screen to keep people from viewing their screen. These devices have been around for years and are excellent for maintaining privacy and security in the workplace or for when you may be in a public place and don't want others to see your screen. They fit over the screen on your laptop or desktop monitor, and make it so you can't see the screen unless you are directly in front of it. In this review roundup, we'll look at some of the best ones on the market.
Monitor Filters
When shopping for a privacy screen, or filter, for the monitor attached to your desktop PC or laptop, make sure you pick the correct size. If your monitor is not widescreen, but instead more square in shape, then you need to get the 5:4 ratio style. For widescreen monitors, the screen filter will actually be labeled as 'widescreen' and indicate the screen size, such as 21.5 inches or 24 inches. To determine the size of your screen, measure the interior viewing portion from the bottom left corner to the upper right corner, diagonally.
Desktops
For a 17" standard ratio monitor, which is quite common in office environments, you should look at the 3M PF17.0 Monitor Privacy Screen. It currently retails for $54.02 on Amazon.com and that price includes free shipping. If you have a large 24 inch widescreen monitor, you might consider getting the 3M PF24.0W Widescreen Privacy Screen. It currently retails for $91.24 on Amazon and that includes free shipping. The cost is higher than the standard 17 inch model because it's just much larger.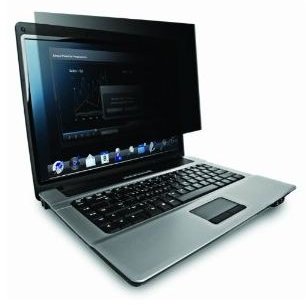 Laptops
For your laptop computer, 3M makes a screen for nearly every size monitor available. They even make privacy screen filters for netbook size computers with 8.9 and 10.1 inch screens, and those sell for around $25 on Amazon.com. Be sure to consult the manufacturer's website for information on your specific model laptop or netbook in order to make sure you get the appropriate screen size.
Installation
To install these filters, simply snap them into place over your screen. As an added bonus, they also add an extra layer of protection to the LCD panel, which is nice for people who like to touch the screen. On the downside, these do somewhat darken the screen and may require you to turn up the brightness and contrast in order to see more clearly.
(Image credits: 3M and Amazon.com)
Final Thoughts
Having a privacy screen in place is helpful in preventing people from casually glancing at your monitor, but at the same time it is not completely reliable. Someone could easily look over your shoulder from behind, plus the addition of privacy screen may serve as an invitation for especially nosy people to try harder just to see what's on your screen. You should always be careful about certain online activities in public places, such as checking online banking or even shopping where you may need to enter a credit card online. You never know who may be watching.
References
Amazon.com
Author's personal experience