Buying Professional Blogger Layouts
There are many sites online where you can buy professional blogger layouts. Some sites are professional galleries who have many designers, while other sites are created by professionals themselves to offer their own gallery for purchase. Many of these locations that offer professional blogger layouts can be a bit expensive when running up against today's economy. The bottom line is that there are not a lot of affordable resources where you can purchase a professional layout.
One of the few sites that are available online where you can buy professional blogger layouts at a decent price is called Themeforest. This site allows professional designers to offer their work at very reasonable prices. For example, there could be a professional $300 design layout with high integration that is offered through Themeforest for $20 or even $12 dollars. The more sales a designer achieves the more word of mouth is spread about their talents and that is one reason that designers use this site to offer some of their work.
You can learn more about online sites that offer free non-professional blogger templates and layouts through Awesome Sources for Free Blogger Templates and Top Free Blogger Layouts.
Themeforest Blogger Layouts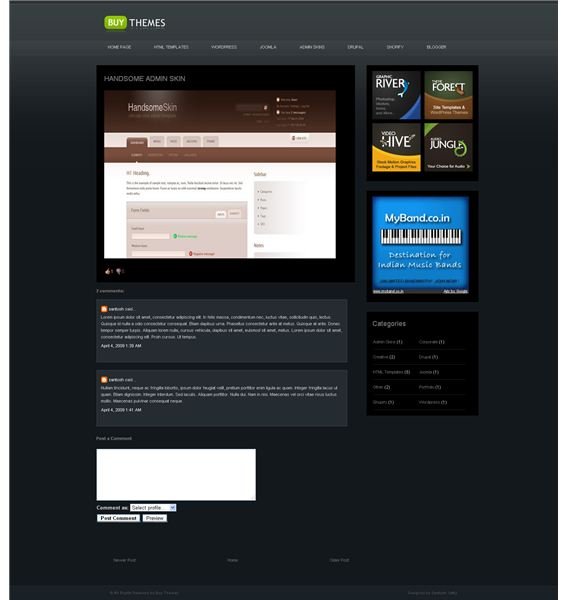 The Themeforest site has many options when it comes to finding the right professional blogger layout to fit your needs. They currently have over four pages that showcase professionally made layouts all within the price range that runs between $12 and $40. Some of the layouts come with fully customizable packages and each designer is available to you, should you run across any issues incorporating their design into your blogger account.
In the image to the upper left is an example of one of the professional blogger layouts that can be found through Themeforest. Click on the image to get a larger view. This design is called the Blogger Gallery Template and retails for $12. The design comes with a wide range of features such as the following: widget ready, 2 columns, ability to add your own logo, ad spot ready and is compatible with various browsers like Firefox, IE6 7 & 8 and Safari. For more information on this template, click through here: Blogger Gallery Template
The next example of what Themeforest carries for professional blogger layouts is in the image to the right. Click on the image for a larger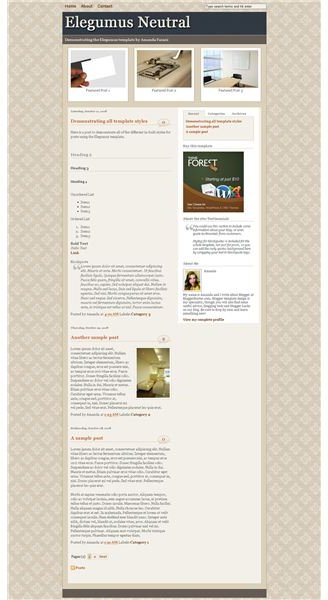 view. This design is called the Elegumus Business Theme Package for Blogger and the whole package comes in at the price of $12. This package includes the following: 2 different color schemes, integrated menu bar, custom header, tabbed sidebar navigation, widget ready, ad ready, featured section for posts, built in search and can be adjusted to your needs using your blogger dashboard. To check out this full package, click through here: Elegumus Business Theme Package for Blogger.
More professional blogger layouts can be found by visiting the Themeforest site and typing Blogger in the right hand search bar.
*images used were provided by and are (C) 2010 Envato