Use and Configure Firefox Bookmark Icons

Messed Up Icons
For some reason the icons for Firefox bookmarks can get mixed up from time to time, showing icons that do not match your bookmark. This can be very annoying, especially if you use bookmark icons to quickly choose the bookmark you want. Here you will learn about how to address issues with your Firefox bookmark icons to avoid confusion and to save your nerves.
Checking the Fundamentals
Firefox bookmark icons appear to the left of each bookmark in the "Bookmarks" menu. They will look something like they do in the following image.
When these icons are not working, disappear, or get mixed up, you can easily select the wrong bookmark or have difficulty finding the bookmark you want. To make sure your Firefox is configured properly to use bookmark icons, let's check a couple things.
First, go to the Web site that is missing the bookmark icon. What you want to do is make sure the bookmark should have an icon before spending too much time troubleshooting. When you arrive at the bookmarked site, right click on the page and choose "View Page Info" from the context menu.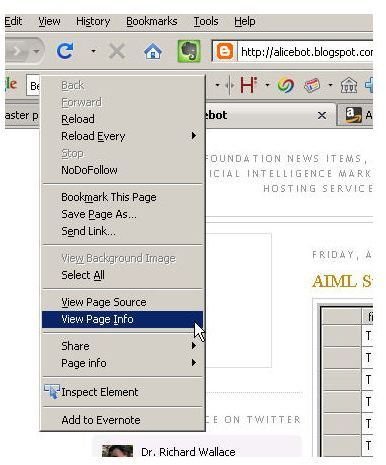 In the "Page Info" window, click the "Media" button and then check the list to see if there is a "favicon" file with a media type "icon."

In this case there is a favicon, so you can move on to the next step which is to see if your browser is set to remember history. From the main menu click "Tools" and then select "Options" and then choose "Privacy" from the "Options" window. Firefox needs to be set to "Remember history" for Firefox bookmark icons to work.
Manual Restore
You can solve the Firefox bookmark icons problem by using Windows Explorer to navigate to the "bookmarks.html" file for your browser. In Windows 7, you will find this file here: C:\Users\[Your User Name]\AppData\Roaming\Mozilla\Firefox\Profiles\a2378w5i.default
When you have found the file, open it in an editor such as Notepad and view its contents. Now you can browse for the offending bookmark(s) and delete the information found after the "icon=" statement(s) that follows the bookmark(s) you need to correct. When you find the correct line, delete the information that follows "icon=": when you restart Firefox, you can click the icon (it now should be without a bookmark) and Firefox will download the favicon and associate it with your correct bookmark.
This method may not work for all versions of Firefox.
Firefox Extensions for Bookmark Icons
Firefox extensions are available that help you remove and change your Firefox bookmark icons.
Delete Bookmark Icons is an extension that will go through your bookmarks and remove the icons that Firefox has associated with them. This will conveniently allow Firefox to restore them while your browser is in use. Be sure to select the version of this extension that matches your version of Firefox.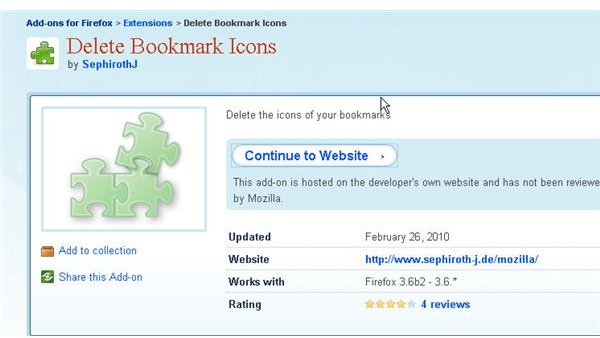 With this extension installed, you will see a "Delete Site Icon" option when you right click on a bookmark.

Click on it and the bookmark icon will go away.

To restore your icon, click on your bookmark and Firefox will restore the correct Bookmark icon for you.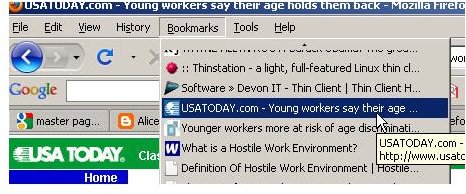 The final extension, Favicon Picker will let you manually assign virtually any image to your bookmark to be used as a Firefox bookmark icon.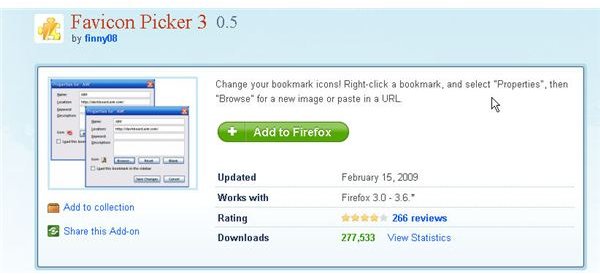 This extension adds a "Properties" option to the context menu when you right-click on a bookmark. When you click this option, you get a "Properties" window that allows you to edit your bookmark. To change your Firefox bookmark icon, click the "Browse" button.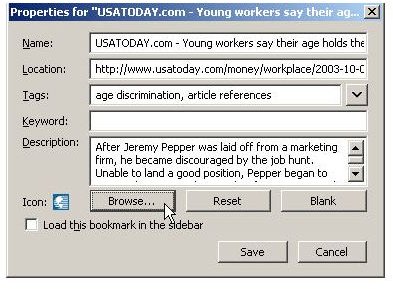 Use the Windows interface to browse to the image you wish to use as a bookmark icon and then click "Open." Your selection will now be visible in the "Properties" window for your bookmark.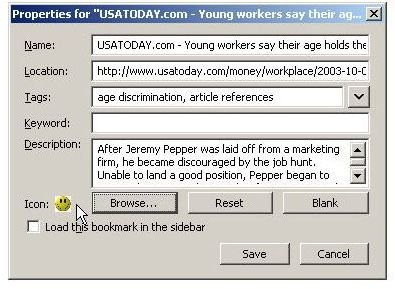 Now, click "Save" and then click the "Bookmarks" option from the main menu to confirm the change.

You now have learned about Firefox bookmark icons, how to delete them,how to restore them, and how to replace them with your own custom images.
Image Credits: Screen shots taken by Bruce Tyson