Learn How Does Google Apps for Business compare to Lotus Live iNotes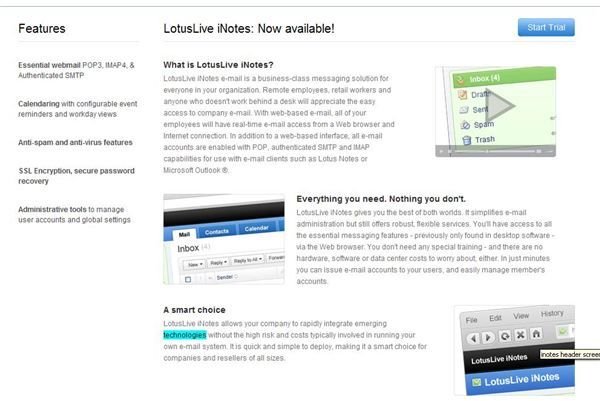 Lotus Live Offerings
Google has more than Microsoft's Bing to worry about. It seems that IBM is also entering the competition against the signature Google Apps Premier business. On top of that, they're offering it to their customers for a lot cheaper.
IBM recently made available to the general public their LotusLive iNotes. This program provides cloud email, contact administration and a handy calendar for just $36 per year, per user. Google's Apps Premier, however, goes for $50 per user per year. IBM's LotusLive iNotes program also targets businesses. This is a great advantage to have, as businesses will get more out of this service compared to the average consumer user. iNotes' email accounts are not connected with consumer accounts, nor do use any spam advertisements.
One disadvantage for Google is that iNotes has something that Google has been lacking recently: dependability. Google Apps has been dealing with quite a few outages in recent memory, angering many customers. IBM sees this as an opening and is pushing their system as the alternative to unreliable and possibly unsecure Webmail. Plus, iNotes seems to allow for better privacy for its customers.
Compatibility and Space
Lotus Notes easily works with Microsoft Exchange Outlook, which is used by many businesses. This means easy compatibility with iNotes. iNotes is also targeting business customers that want to eventually move to cloud, but want to do it in a less dramatic fashion than what Google offers. Basically, the service is a hybrid between full cloud service and on-premise work. iNotes can be used if you want to completely move your email to cloud, or just partially.
Essentially, the thought behind iNotes is to move an enterprise email system in the cloud arena. The hope behind this is to free up
under-staffed or just over-loaded IT departments and allow them to free up some time.
Google has 25 gigs of space while iNotes only has 1 gig. Both of these programs can be accessed from a landline computer or your mobile device.
IBM's entrance into the cloud game just makes the latest contender in the game. Many companies have been bumbling into this arena with mixed results and sometimes no success at all.