iGoogle: On Your Mobile Device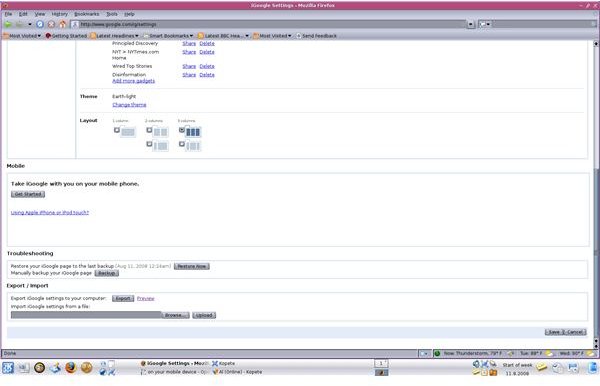 Setting up iGoogle On Your Mobile Device
These days everyone is on the go, all the time. Wouldn't it be nice to have all of your iGoogle information when you're on the go? You can, with iGoogle Mobile. Just like all the other Google services, iGoogle Mobile is easy to set up, easy to use, and a great tool to help keep you informed, organized and on track.
1.Log into your iGoogle account.
2.From any click on the arrow to the right of the tab name.
3.Choose Edit this tab from the drop down menu. This brings you to the Preferences page. Scroll down about halfway down the page. Under the Content box, you'll find the Mobile box.
4.For most phones, click Get Started. If you have an Apple iphone or iPod touch, you'll need to click the link Using Apple iPhone or iPod touch?
5. **Get Started -**When you click this button, a list of mobile compatible gadgets appears, based on the gadgets you've selected for your iGoogle page. Select the ones you want to see from your mobile phone, and hit Continue.
6. Arrange your selected gadgets in the order you'd like them to appear on your mobile device. You do this by moving your mouse over the gadget you'd like to move, until the cursor becomes a hand. Click and drag the gadget name to the desired slot.
7. Click Continue
That's all there is to it. Now all you have to do is go to google.com/m from your mobile phone browser to access your new iGoogle mobile page. Once you're there, you'll find all of the apps, widgets, tabs, and other elements of the iGoogle page that you're used to seeing when you use iGoogle from your desktop or laptop computer.
You can even access your iGoogle page if you have an iPhone or iPod touch. Just click the Using Apple iPhone or iPod touch link. You will be instructed to visit google.com/ig from your mobile device to complete the setup process.
Images