In mid 2008 big G brought DoubleClick Performics, a program which brings retailers and website owners together for promoting products and services under the umbrella of the Google brand. Webmasters place links and image ads on their websites, and when a visitor clicks the ad and buys the product the publisher gets a commission. This in contrast to Google AdSense which pays webmasters for clicks or the number of times the ads have been displayed. The Google Affiliate Network, or GAN for short, acts as an intermediary between publishers who promote items and advertisers who sell it in on their own website. Now, the opportunity to sell Google ebooks has been greatly extended:
Google has just announced [1] that more publishers of electronic books can become Google eBooks affiliates as a test phase since December 2010 with a single advertiser (Goodreads) proofed positive. Google eBooks is one of the many GAN advertisers for which GAN publishers can promote products and earn trough commissions; the program comprises the electronic books people can find at Google eBookstore.
These ebooks can be read on any computer with Javascript enabled browsers, Android powered devices running version2.1 or later, iPhone, iPad, and iPod touches with iOS 3.0 or later, as well as on readers, specialized devices which supports the Adobe eBook platform [2]. The news essentially means that website owners can now display promotional material from all book publishers accepted as Google eBooks advertisers in Google bookstore affiliate program.
Making Money from Google eBooks
To generate additional income from promoting ebooks you first have to apply as publisher. Joining Google's book affiliate program is multi-step process:
1. First of all you need an AdSense account. If you don't have one sign-up for displaying Google advertising with a quality website or blog.
2. Once you have an approved AdSense account sign up to Google Affiliate Network using your Google Account and hitting the Sign up Now button.
Fill in the form. The primary website associated with your AdSense account is being displayed as website information, but you are expected to list the other sites you operate in the Website description field. Once you have saved the application you can expect an email in your inbox stating that your application is being reviewed.
Once you have received another mail from Google indicating that you have been approved as affiliate sign in to GAN. Hit the Advertiser tab, and enter "Google eBooks" in the Find advertisers Search box. Right after that go to the Relationship status drop-down arrow in the left pane and select the Available radio button. Then hit Apply.
On the next screen tick the terms and hit the Join program button. You are done and will receive an email that your application for Google eBooks is being reviewed. If all goes well you receive another mail stating that your application to Google eBooks has been approved, at which point you can start selling ebooks for a commission paid by Google.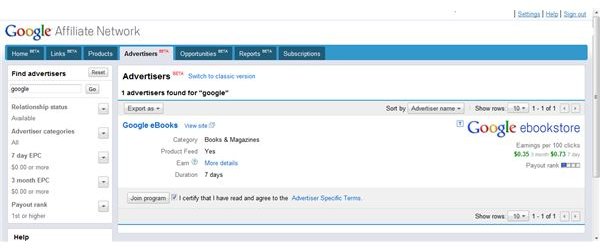 If you are a book publisher find here How to include your books in Google Books.
Affiliate Code Integration Overview
In contrast to Google AdSense which displays advertising dynamically by analyzing the content of your site do you actively select the books you want to show to visitors of your site. The better they match the content of your site the higher the chances your ad will convert to a lead or sale. But I guess you know all that already because you have to be AdSense publishers and likely have some experience with other affiliates program including CJ, Amazon and Clickbank for example.
You can link to Google books using GAN product feed, making use of an application programming interface, or use tracking links as the simplest and probably most familiar option. Whatever options you choose review the eBooks Branding Guidelines to play safe with Google and avoid being removed from the eBooks affiliate program. Details about the technical integration options can be found on the Google eBooks Affiliate Integration page.
How much Google eBooks Pays
The amount you earn depends on how many books are being sold trough clicks with your affiliate id within a month:
If the amount of sales per month is between
0 and $299 the commission is 6.00 percent ,
$300 and $999 the commission is 7.00 percent,
$1000 and $4999 the commission is 8.00 percent,
$5000 and $9,999 the commission is 9.00 percent.
If the amount of sales per month is more than $10,000 the commission is 10.00 percent.
These are the standard rates, in certain cases special commission terms apply which can only be requested from your program manager. The above information can be found next to Earn? following the More Details link in Advertisers, Google eBooks.
Checking your Earnings
You can find your earnings reported in your AdSense interface, below AdSense for Content and AdSense for Domains in the Google Affiliate Network row. However, whereas AdSense clicks and impressions are reported real-time, earnings from GAN appear approximately 30 days after the end of a calendar month. Recent stats can be found in GAN interface on Performance on the Home tab. However, these numbers are not finalized until you receive a payment summary by email and see an entry posted to your AdSense account.
Availability of Google eBooks Affiliate program
The affiliate program for Google' eBooks is open for all publishers but currently restricted to advertisers with US activities:
"Retailers, bloggers, book publishers and other website owners in the U.S. can now become Google eBooks affiliates [1]. Big G's affiliate program is labeled Beta at the time of this writing, but chances are intact it will be rolled out globally at later stages.
As the program is open for all webmasters join Google Affiliate Network and become a Google eBooks Publisher now – good luck for making as much as possible!
References
[1] Google eBooks Affiliate program – Open for business
Author's own experience
Screenshot by writer