What is the International Genealogy Index (IGI)?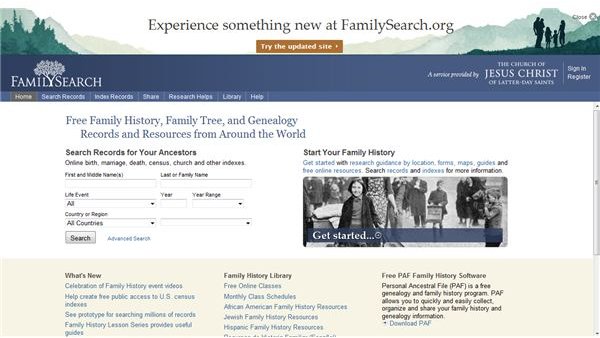 If you have an interest in researching genealogy, wherever you're from, the International Genealogy Index (IGI) is a great resource. Thanks to the efforts of the website and the contributions made by the Church of Jesus Christ of Latter-day Saints (you might be more familiar with their more common name, the Mormons) the IGI genealogy search index features countless entries of marriages and baptisms from around the world.
Records that you might find using this search tool aren't just the basic "flat" facts – you will find records are "clickable", leading you to further information about the individuals and their parents.
What You Will Find with IGI Genealogy Search
When using the IGI search, you will be able to find out more about your ancestors birth, baptism, marriage and on occasions death, information about where these events took place, details about parents and spouses, and the document indexes and location information for viewing the original records.
Unlike the services provided by genealogy search engines and websites such as Ancestry.com or the British birth, marriages and deaths project (freebmd.org.uk), IGI doesn't allow you to download scans of records or the related certificates where available. You must use the data supplied to acquire or view the original records yourself.
Accessing IGI Genealogy Search
You can find the IGI search at www.familyseach.org, a website provided by the Church of Jesus Christ of Latter-day Saints.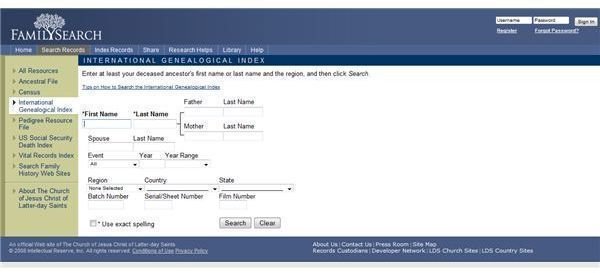 The search tool features three types of search:
Historical Records
Family Trees
Library Catalog
Using the Historical Records tool, you can search for the forename, surname, place and a date range of an ancestor you might be looking for. An Advanced option will allow you to select an Event as well as specify whether you are searching for that person's spouse or parents.
The Family Trees will allow you to search for online trees that www.familyseach.org has listed. This offers far more fields to complete, although of course they are all optional as long as the basic information is supplied. The Advanced option on this search tool allows you to specify a "drift" on the search range; for instance you might search 1918-1941 +/- 5 years. As many birth records were updated many months after the actual birth, this is a useful feature.
Finally, the Library Catalog tool provides a search facility for placenames, titles, microfiche numbers and more. This tool is aimed at providing researchers information on where to find the records as well as useful index numbers.
Successful Searches with IGI
A successful search using IGI depends on two things: the quality of your search term and the quality of the IGI index. Failed searches can be a combination of both poor information and holes in the IGI index – although they provide a free service and a massive database, it is fair to say that it should be used as a companion to other genealogy search tools rather than a replacement.
Using the advanced search tools is usually your best bet for a successful search, but don't forget to take into account differences in spelling that might have existed in early 20th century and earlier. While your search results might appear to pertain to someone with a different surname, this might simply have been an issue with the spelling of the name or even difficulty transcribing the original record.
Remember also that there are many other online resources – if you don't get lucky with IGI, perhaps some of these sites will help.