Colorado: The Bad News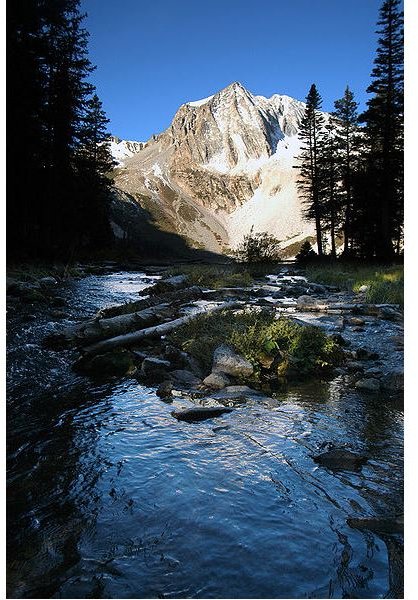 Colorado is rapidly changing. According to the Nature Conservancy, one-fifth of Colorado's species and subspecies are at risk of extrapolation (being driven from their native environment) or extinction. The Colorado River, once wild and untamed, is now controlled by dams. This is a far cry from its wild west days. Colorado, like most states in the nation, is caught in a struggle to balance human development and growth with preservation of natural habitat (an therein native species). As nature becomes "tamed," so goes the biodiversity and uniqueness of Colorado.
Colorado Plateau
The Colorado Plateau extends into Colorado, Arizona, Utah, and New Mexico—the "Four Corner" states. The plateau is home to pinyon-juniper woodlands, ponderosa pine forests, and mixed conifer forests. The area also is frequently exploited by livestock ranching, logging, mining, oil and gas drilling. Many plants on the Colorado Plateau depend on wildfires, but due to the mandatory suppression of fires, normal low-level wildfires are no longer allowed to perform their job. Instead, prescribed fires are performed and they tend to be more intense than natural ones.
Southern Rockies
The Southern Rocky Mountains are home to many animals being threatened by humans, like the Canada lynx, cutthroat trout, and goshawk. Habitat for these animals is being lost to human sprawl and rapid population growth. The Southern Rockies Conservation Alliance is working to preserve passages of these species by encouraging the Colorado Department of Transportation (CDOT) to create overpasses to allow wildlife to roam freely without crossing traffic. Of course, habitat loss still remains a problem.
Roan Plateau
Located between Glenwood Springs and Grand Junction, this area, along with four others in the state, is home to one of the greatest concentrations of biodiversity in Colorado. According to the U.S. Department of the Interior Bureau of Land Management, it's believed that cutthroat trout occupy only 1 percent of their original, historic range. Many agencies are reintroducing cutthroat trout to the Colorado River. The Roan Plateau is also home to mountain lions and bears. The rare DeBeque milkvetch is a wildflower that only grows at the base of the plateau in western portions of the state. The areas where the wildflower grows are also main spots for gas drilling and oil explosion. Conservationists are working to preserve the remaining wildflower population.