The Rise and Fall of Standard Non Stick
The popularity of standard non stick bakeware began to rise with the invention of adding polytetrafluoroethylene (PTFE), more commonly known as teflon or t-fal to cooking pans. Teflon and T-fal was only used to coat aluminum and steel cookware in an effort to allow cooks to cut back on the amount of oils used during cooking. The substance created a non stick base in cookware and also provided for easier clean up after use.
In the mid 1980's, the Environmental Protection Agency (EPA) began to find high amounts of rfluorooctanoic acid (PFOA) in the environment and in the blood of people who had used the PTFE coated cookware. The PFOA, which is also known as C8 became a part of a voluntary program in 2006 by the EPA that calls for manufactures to reduce the product content of this substance by 95 percent by 2010 and to eliminate its creation altogether by 2015.
Because of this program and the high levels of PFOA that have been found in the environment, people are going back to non-coated pots and pans. Cast iron, ceramic and glassware items have all enjoyed a resurgence of use in the past ten years but there are still some cooks out there who miss the use of a non stick surface.
Here we are going to take look at some green alternatives when it comes to using non stick, non toxic bakeware. For more information on the toxicity of PFOA and teflon products, check out Potential Dangers of Chemicals in Cookware and Hazardous Chemicals in Clothing and Fabric.
EarthPan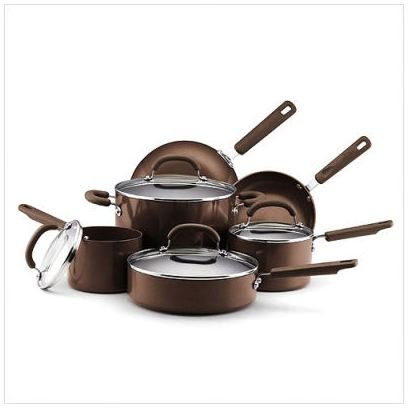 The EarthPan company is an environmentally friendly cookware company that offers chemical-free, non stick bakeware in their line of products. The non stick surface comes from their patented SandFlow™ coating made from a base of natural sand. The coating is an exclusive formula that is only available with EarthPan products.
EarthPan sets are available from retailers such as Wal-mart, QVC and Target. The pans and bakeware come in sets and are not open for individual item sale. Average price range for EarthPan sets is between $112.00-$230.00 both online and in store. In the image to the left is the EarthPan set in their Espresso color.
Lloyd Pans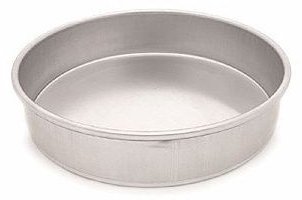 Lloyd Pans have also created a wide range of eco-safe non stick, non toxic bakeware. Their coating is created from an aluminum base with ceramic layering and is called the Eco-Friendly Release Coating. The coating itself for Lloyd Pans is not just a coating but an infused coating that is a part of the underlying pan.
Their range of available bakeware includes the following items:
Cake Pans

Bread Pans

Sheet Pans

Pie pans
Lloyd Pans are professional bakeware products which sell to the general public through certain distributors. Cakes-n-Things online is one of their main distributors where they offer individual pans for an average price range between $10.00 and $100.00. Lloyd Pans online can be seen through: Cakes-n-Things Lloyd Pans
*images used are provided by and © 2010 Lloyd Industries, Inc. © 2010 EarthPan™