Choosing Kitchen Drawer Organizers: Sustainable is Best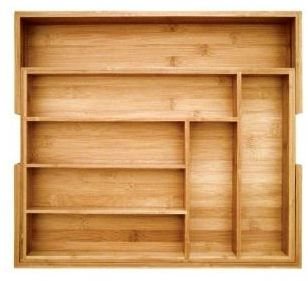 The kitchen is the most important room of the home and for green homes, this would mean setting the kitchen up in the most eco-friendly fashion. Kitchen drawer organizers are a staple for any organized kitchen. They make time in the kitchen productive and efficient. Whether it is for spice jars or silverware, you can find a drawer organizer to make life in the kitchen simpler and more efficient. Choosing kitchen drawer organizers made of sustainable materials is a great way of creating a truly green kitchen.
Consider the Material
The first step when choosing sustainable kitchen drawer organizers is to consider the material they're made of. After all, that is what makes them green or sustainable. Bamboo kitchen drawer organizers are becoming increasingly popular with green homeowners. Bamboo as a raw material is great because it looks great, is relatively low-maintenance and is a self-renewing plant or grass.
Solid wood is another green choice for eco-friendly kitchen drawer organizers. Solid wood can be a green option when it has been certified by the Forest Stewardship Council or FSC. In other words, it means that the wood has been harvested sustainably and no trees were simply cut and not renewed.
Organizers made of particle board or plywood are also sustainable options for a green kitchen. These materials basically take various types of recycled material – wood chips, sawdust and others and then use heat and glue to compress and join them together into a wood-like material.
Image Courtesy: Amazon
Consider the Storage Space Offered
Once you've decided on the material for the drawer organizers, look for organizers that suit your specific purpose. Do you want them to hold spice jars? Or silverware? Or miscellaneous kitchen tools and equipment? Also, it will be a good idea to measure the inside of the drawer to ensure that you get a good fit. Some companies, such as Axis, offer expandable kitchen drawer organizers that can be adapted to hold more items as your need increases. Others offer specialty drawer organizers. Totally Bamboo, for instance, has an in drawer knife block to hold all those knives in place.
Budget is Important
As with everything related to the home, budget will play an important role when buying green kitchen drawer organizers. Since these organizers are made of eco-friendly materials, they generally cost more than your standard plastic drawer organizers. For instance, the Totally Bamboo Expandable Utility Drawer Organizers are available from Amazon at a best price of $29.95 in comparison to an Oxo plastic organizer that sells for $14.95. However, if one truly wants to save the planet and be frugal, one can look for cheaper options. For instance, acrylic organizers made from recycled plastic are a great option for green kitchens. U.S Acrylic sells deep drawer organizers made from 100% recycled plastic from as low as $3.99. While bamboo and solid wood are obviously great choices when buying sustainable drawer organizers, if budget is a constraint, then you can go with acrylic, which though not sustainable, is an eco-friendly choice.
Places to Find Efficient, Eco-Friendly Organizers
One can look for kitchen drawer organizers made of sustainable material at various websites including, Amazon. With the green living movement spreading fast, most big retailers stock eco-friendly drawer organizers. So, you can check out favorites such as The Container Store and Target for some great deals.
A green kitchen is a good place to be in. Not only will you be whipping up delicious delights for the family but you will also have the added satisfaction of knowing that your time in the kitchen is affecting the environment in a good and wholesome way. Choose sustainable kitchen drawer organizers to make that time healthy and happy for the family and the planet.