Crafting 101 Using Recycled Aluminum Cans
There are so many good uses and projects made with recycled aluminum cans. Instead of throwing them away, why not try making some attractive and fun craft projects. Reusing old cans is a smart way to recycle and create eco friendly crafts. The great part about using aluminum cans for your projects is that they are free and come in many different sizes depending on your crafting needs.
Make a Tin-Can Luminary
To make a tin can luminary, you need a washed aluminum can, nail and a hammer, paper, pencil, scissors, and tape. If you want your luminaries to have a longer burning time, use a 28 ounce tomato can or 64 ounce tin can. This allows for at least 6 to 8 hours of candle burning. To start making your luminary, choose a pattern or stencil online and print it from your computer onto on a piece of paper. You can also accomplish this task by drawing a template by hand if you're good at free drawing.
When you have chosen your pattern, tape the stencil over the can with the open side facing up. After the stencil is adhered to the can, take a nail and tap along the design leaving about a 1/8 to 1/4 inch space between. Pierce gently onto the can using the nail. It is best to use smaller nails for smaller cans and larger penny nails for bigger cans.
After your design holes are punched, remove the stencil from the can. At this point, you are ready to insert your candle by using a tea light or small votive. Before placing your candle inside, drip candle wax onto the bottom of the tin can and place the candle onto the wet wax. Once the wax dries, your candle will be set and centered in the middle of your can. A great tip for creating a luminary that throws out a lot of light is to space nail holes closer together. This will allow the most light to be emitted from the can. Try using simple patterns so your design does not get lost or skewed.
Hanging your luminary is a simple task that requires punching three holes into the can at the top. Slide three pieces of jute or heavy-duty twine through the holes and tie all three lines with an overhand knot. Hang your luminaries on another line or hook from a branch or other structure. Remember to only hang luminaries where they will not catch fire or create a safety hazard. You can also place your luminaries along a path or walkway as well. Projects made with recycled aluminum cans are wonderful ways to better our planet and reuse old tin cans.
Get creative by adding some color to your cans by spraying them with heat resistant paint or glue some colored glass pieces onto the outside of the can. This is a great activity to do with your kids that will inspire their imagination while practicing green living. Never leave a candle luminary unattended and follow safety precautions when working with aluminum cans.
Decorative Luminaries are a Great Way to Recycle Aluminum Cans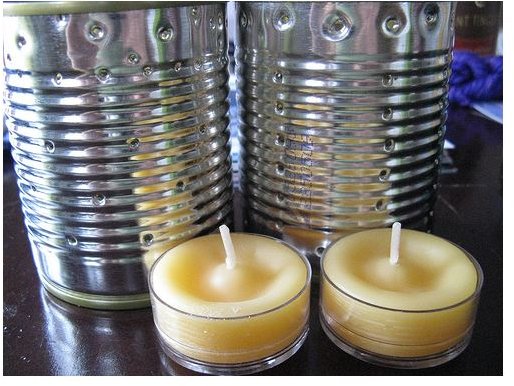 Creating an Indoor Mini Planter
This craft project made from recycled aluminum cans turns ordinary tin cans into beautiful mini planters to be used for potted plants and flowers. Materials used for this are linen, twine, two freshly washed and dried aluminum cans, hammer, scissors, rubber stamps, a clear adhesive glue gun, and a single nail. Measure and cut fabric to adjust to the size of the can. Choose a name for your plant or flower, and stamp this name onto the linen piece of cloth using rubber stamps.
Turn your can over on to the open side with the bottom facing up. Hammer 8 to 10 holes into the bottom of the can using the nail. Apply glue from an adhesive glue gun onto the back of the fabric with the printed side down. Wrap the sticky side of the linen fabric around your can. Using twine, wrap it around the can about one-inch from the top and bottom. Fill can with potting soil and place your plant or flower in the middle. Keep the can watered and place on a shelf with plenty of sunlight or shade depending what type of plant you choose for your planter.
For more projects made with recycled aluminum cans, visit www.talkingchild.com. The possibilities are endless, and recycled resources are as close as your own recycle bins. Taking the time to remake something old into something new again is both rewarding and a great way to spend time with loved ones. All kinds of items can be made from recycled aluminum cans that are practical as well as pretty. Grab your can and design your own customized project; you will be proud of your work, or you may consider giving an eco-friendly gift to someone. Planning projects made from recycled aluminum cans is an easy and fun process.
Homemade Planters Are Easy to Assemble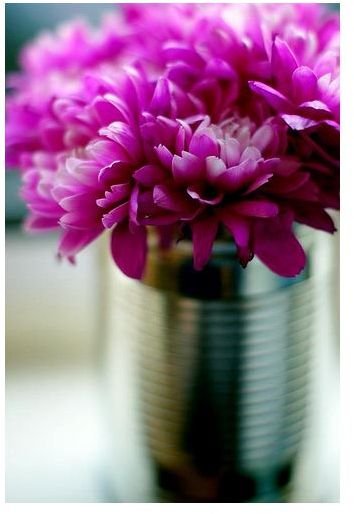 Image Credits
Photos kindly provided by todassomosreinas.blogspot.com and www.thetinylife.com
Sources
Photos provided by Flikr.com
www.craftown.com
https://www.youtube.com/watch?v=Lv_84CBz-2A