Organic Oral Care by Eco-DenT
In 2006, the American Dental Association released information that found fluoride to be a major cause for the rising numbers of tooth decay. Using fluoride containing oral care products can cause the development of the diseaseFluorosis , which damages tooth enamel and breaks it down enabling faster decay. Unfortunately, many commercial manufactures of oral care have ignored theADA's findings and continue to create fluoride infused dental care products.
Organic oral care products have long been created to be fluoride free. And even though the popular Tom's of Maine natural line of toothpastes and oral care began to create some natural fluoride containing pastes and mouthwashes after being bought by the Colgate corporation there is still one established organic oral care company that creates great oral care products all fluoride free. That organic company is Eco-DenT.
Eco-DenT is currently the only natural products company that has a full line of organic oral care products. They specialize in oral care and have developed each oral care product to be of the best premium organic quality available. There products cover the organic oral care spectrum from powders and pastes through to floss and washes.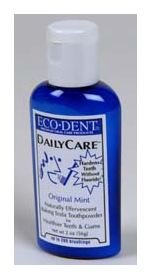 The most popular products that Eco-DenT produces are the toothpowders. The DailyCare and SpecialCare tooth-powders are designed to be naturally effervescent while remineralizing and hardening tooth enamel at the same time. Claiming that their tooth-powders can strength tooth enamel, isn't just product advertising because it has been proven through a study by the University of California San Francisco Dental School. The university study found that the organic mineral formula in Eco-DenT really does remineralize teeth, hardening the natural enamel and protecting against tooth decay, plague formation and sensitivity.
Other organic oral care products by Eco-DenT are the dental gum and the new Res-Q-Dent, which is an organic gel toothpaste designed for advanced sensitive teeth care. None of the products offered by Eco-DenT contain fluoride and they are never tested on animals. For more information on them and their line of organic oral care products, visit their main web site at: www.eco-dent.com