Travel Green!
Make your future vacations a little greener by packing green. Suitcases and travel bags with the green traveler in mind are made from sustainable or organic materials and are dependable for years to come. Whether you're getting ready for an eco-adventure or just taking a weekend roadtrip, bring your eco-travel bag along.
The Joy line of Eco-Suitcases and Travel Bags
Travel bag and suitcase makers Mandarina Duck released their eco-suitcase line in 2008. Based in Cadriano di Granarolo, Italy, the Mandarina Duck company has been making travel bags for over thirty years. They now have stores worldwide in locales such as New York, Paris and Tokyo. The eco-friendly line that they have created is called Joy, making Mandarina Duck a part of the few durable and sustainable suitcase makers that have eco-travel lines on the market today.
The Joy line is built from a new material by DuPont™ called Sorona®. The material is created from fibers of renewable sourced polymer. The polymer is created from corn fibers picked up through agricultural feed-stocks. In using corn fibers as a blend for the Sorona ® material, DuPont has done away with a dependence on non-renewable nylons and begun to focus on renewable and sustainable corn fibers. In doing so, the dependency on oil is lessened and the use of petrochemicals can be eliminated from the production process.
Each bag created from the Sorona® fibers have a flexible and soft feel to them, making them a great choice for traveling across town or across the world. Currently the line contains five different types of travel bags and suitcases in a variety of colors from burgundy to navy blue and black.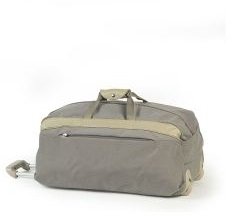 Featured to the left is the Mandarina Duck Joy Travel Bag in Natural. This durable eco-bag includes a trolley function for quick trekking through airports with an extendable handle. The outside front pocket is removable.
Empty weight for this bag is 6.39 lbs/2.90 kg with a capacity of 75lt and overall measurement size of 24.80 x 15.74 x 11.81 inches/ 63 x 40 x 30 cm. The Joy Travel Bag retails online through the Mandarina Duck Shop for $329.00 before tax. Keep in mind that the online shop is also based in Italy, so additional fees may apply.
For more information on the Joy line of eco-suitcases and travel bags, visit the Mandarina Duck Shop.