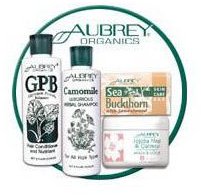 Aubrey Organics is an all natural company that was founded in 1967 by Aubrey Hampton. Aubrey's philosophy when it comes to personal care products is why use something synthetic when natural ingredients just work better. All products are certified organic, vegan and do not contain any synthetic additives or petro-chemicals. They carry a line of over two hundred organic personal care products. Here, we are just going to go over the organic styling products that Aubrey has for organic hair care.
Organic Hair Spray
Aubrey Organics makes two different types of organic hair spray. The base for each product comes from a combination of herbal plant gums such as Acacia Senegal and Arabic.
Regular Hold – Natural Mist Herbal Hair Spray: Contains organic Arabic gum and B vitamins for shine and a relaxed hold.
Super Hold – Natural Mist Herbal Hair Spray: Contains a high dosage of herbal gums for an all day hold.
Organic Leave In's
Each of the listed products here by Aubrey Organics are designed for leave in use. The organic nature of each product allows for an herbal hair food that continues to work with the hair until the next shampoo.
Primrose Tangle – Go Hair Conditioner, Lusterizer and Styling Spray: This product combines Lavender and Evening Primrose oils for added styling control to smooth hair, along with added B-5 vitamins for strength and shine that you just spray into damp hair and leave in.
Sea Buckthorn – Leave in Conditioner and Curl Activator Spray: Using a base of Sea Buckthorn for optimal curl enhancement, this product also uses Oat proteins for hydration.
White Camilla and Jasmine – Shine Conditioner Spray: Blending oils of White Camilla and Organic Aloe to replenish hairs lost moisture, this product also contains Ginko Biloba and Ginseng to fortify and continually nourish hair.
Mandarin Magic Ginko Leaf and Ginseng Root – Hair Moisturizing Jelly: Combines eight Chinese herbals to nourish hair along with added B-5 vitamins for moisture and styling hold.
B-5 Design Gel: Organic Rosa Mosqueta® Oil, B-5 vitamins and Horsetail extract gives this product the ability for free style hold with maximum control. Non-crunchy feeling formula.
Organic Deep Conditioning
Aubrey Organics has also designed a sampling of deep conditioning treatments for hair. All hair at some point needs a styling break and a little extra care; here is a line of organic products that can give hair that extra help to repair.
100% Organic Jojoba Oil: Seals moisture into the hair shaft with a light coating to sooth hair and hydrate a dry scalp. This product can also be used as a skin hydrate and makeup remover.
Blue Green Algae – Hair Rescue Conditioning Mask: Shea Butter and Organic Aloe is added to Blue Green Algae to replace hairs lost amino acids, proteins, vitamins and minerals.This is an extra strength treatment product and is only recommended for use on very dry,damaged hair or chemically treated hair.
Rosa Mosqueta® – Rose Hip Seed Oil Moisturizing Nutrient: Pure oil from extracted from the Andes Mountain area gives hair and scalp a high concentration of hydration. Not recommended for those prone to acne.
White Camellia Oil – Soothing Emollient: A lighter moisturizer that hydrates hair and scalp without the thicker oil feeling of the RosaMosqueta®. This oil is hand harvested from Japan.
Go to their website to learn more about them: https://www.aubrey-organics.com/