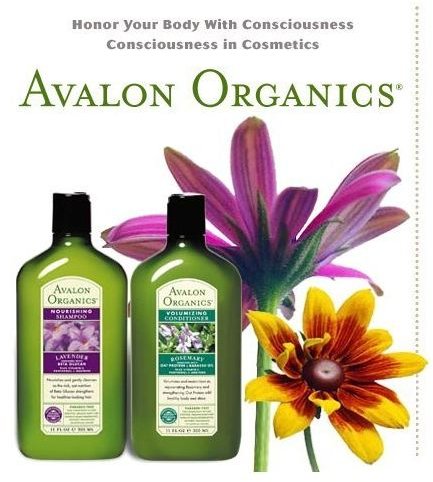 Avalon Organics is a sub-organics hair care line created by Avalon Natural Products. The company uses 100% organic Olive and Grapeseed oils in all of their hair care products and offer both scented and fragrance free products; from shampoos to intense hair elixirs. All products are created from paraben-free formulas and do not contain harsh chemical additives that you would normally find with over the counter hair care products.
The Avalon Organics hair care line is comprised of ten different types of organic shampoos with complimenting conditioners. Available products are as follows:
Lavender Nourishing Shampoo/Conditioner is made with organic lavender and is created to energize your scalp for stronger hair.
Lemon Clarifying Shampoo/Conditioner is made with organic lemon and Shea butter to remove build up on your hair, restore natural highlights and replenish moisture.
Olive & Grapeseed Moisturizing Shampoo/Conditioner combines organic oils to infuse dry and brittle hair with moisture through a soft wash.
Peppermint Revitalizing Shampoo/Conditioner is made from a organic peppermint and babassu oils to increase scalp circulation and increase hair shaft growth.
Rosemary Volumizing Shampoo/Conditioner combines organic Rosemary and wheat proteins to give a gentle cleanse while building fuller body.
Tea Tree Scalp Treatment Shampoo/Conditioner is made from organic tea tree oil to balance out your scalp's chemistry, reduce dryness and control dandruff.
Ylang Ylang Glistening Shampoo/Conditioner made from a mixture of organic Ylang Ylang and mica minerals build up the hairs natural luster and give a slight shimmer effect.
Awapuhi Mango Moisturizing Shampoo/Conditioner is an elixir designed to gently cleanse the hair without stripping natural oils from the hair shaft while replenishing the hairs natural moisture balance.
Biotin B-Complex Thickening Shampoo/Conditioner is an elixir that combines

Saw Palmetto, wheat protein and biotin to cleanse and thicken the hair shaft growth over time.
Tea Tree Mint Shampoo/Conditioner is an elixir of organic tea tree, peppermint, eucalyptus and rosemary oils to stimulate the scalp, control higher levels of dandruff and protect the scalp from itching.
For more information you can visit the Avalon Organics site or stop by your local Whole Foods Market to pick up any of the Avalon Organics health and beauty product lines.