Find an Outdoor Eco Friendly Toy That Your Kids Will Enjoy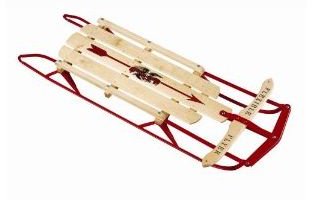 Flexible Flyer Sled - $109.99
This antique sled is a trusted product that dates back over one hundred years. The sled deck is made of birch wood, and is supported by deep red steel runners. An eagle-and-arrow trademark sits on the center deck.
Weighing twelve pounds and measuring 48" in length, the Flexible Flyer Sled is sturdy enough to accommodate anyone aged five and up, including adults. The sled stands up well to rough-and-tumble play from kids, and adverse winter conditions. Riders can easily handle the sled on packed snow and ice, but steering through powder conditions is not recommended.
When the kids are through with sledding, you can decorate the sled with Christmas lights or ornaments, and leave the sled secured on your front porch. Or, you may prefer to fill the sled with gifts and place it under the Christmas tree.
Fair Trade Eco-Friendly Soccer Balls - $30.00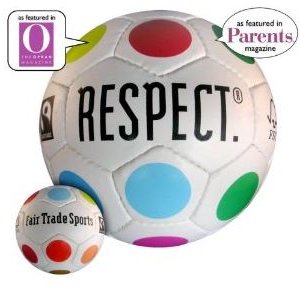 Here is an outdoor eco friendly toy that really makes a difference. Fair Trade soccer balls are hand-stitched by adult-only Pakistani workers who are guaranteed fair wages, and safe working conditions. Under the watchful eye of Fair Trade Labeling Organization, child labor is not used. Proceeds from sales of the soccer balls benefits children's charities worldwide. The balls are not intended for professional use; they are meant for play only, for children under nine years.
Fair Trade Sports (makers of the soccer balls) commitment to promoting environmental awareness and social awareness is evident by the strong statements engraved on the vibrantly colored balls, which read, "I'm Only One", "Save The Earth", "No More War", and "Respect". The Fair Trade soccer balls are safe, and made from synthetic leather products derived from pesticide-free, harvested rubber trees.
Green Toys Sand Play Set - $19.99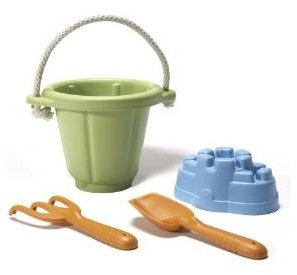 Using this unique sand play set, kids can get very creative building sand castles in their backyard sandbox or at the beach. The Green Toys Sand Play Set is made from 100% recycled plastic milk jugs, and gets an environmentally friendly seal of approval. Parents can also rest assure that the play set is safe and contains no harmful chemicals. Designed for kids aged three years and up, the toy passes tests for durability, quality, and construction. The four-piece set includes a pail, a shovel, a rake, and a sand castle mold in pleasing neutrals.
Green Toys EcoSaucer Flying Disc - $4.99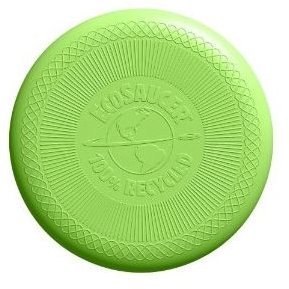 Back in the day, the Green Toys EcoSaucer would have been commonly known as a Frisbee. But whatever you call it, this outdoor eco friendly toy still soars to great heights and is lots of fun for everyone aged five and over. Like all Green Toys, the EcoSaucer is also made from recycled milk jugs. The product contains no BPA, phthalates, or lead paint. The disc is extremely durable but lightweight, and is sold in minimal recycled cardboard packaging. Currently, the EcoSaucer is available only in lime green.
Homemade Water Blaster - Free to make
A high-powered water blaster can cost you about $40.00. Buy why spend the money on this outdoor toy when you can make it yourself in mere seconds? Show your kids to create their own squirt guns by recycling empty condiments bottles, or any bottle with a flip-up lid.
Select your bottle, wash it thoroughly, and then simply fill it with clean water. And that's it; you've created an instant water blaster. Your kids can take aim at each other by squeezing the bottle (which will shoot water through the trigger) and blasting away their target. For continuous fun, just keep refilling the bottles.
References
https://inventorspot.com/articles/fair_trade_soccer_balls_send_messages_peace_individuality_and_en_28004